Fringe World-goers are in for a wild ride when 'Railed', the latest offering from Head First Acrobats, returns In 2020 after a stellar inaugural season.
Head First Acrobats have become crowd favourites at the festival since swinging onto the scene in 2017 with their break-out hit 'Elixir', which wowed audiences for its gravity-defying stunts, cheeky humour and eye candy – and 'Railed' is no exception.
Head First Acrobats' Callan Harris – who co-created, directed and performs in 'Railed' – is "so excited" to once again be donning his cowboy hat in Perth.
"Honestly if you asked me two years ago if we were going to make a cowboy show I would have been like 'oh man, probably not', but one of the harder bits with circus and narrative is trying to make the circus acts make sense", Harris says from his home in Melbourne. "Our last show ('Elixir') was a science show where we would drink the elixir and then the action would be a result of the drink and with other genres we have to find a way to fit the circus acts in. When we brain-mapped the cowboy one everything kind of just pieced together and made sense."
Harris lists The Three Stooges and western films – in particular the Owen Wilson and Jackie Chan comedy, 'Shanghai Noon' – as inspiration for 'Railed'.
"When we get into creating a show we make a mind map of all the possible narratives and themes we could go with and whichever one makes us laugh the most is what we go with. . . It was cowboy western for us. We took inspiration from old cowboy movies and The Three Stooges. They're quite an inspiration to us because we do a lot of slapstick and the humour is pretty similar."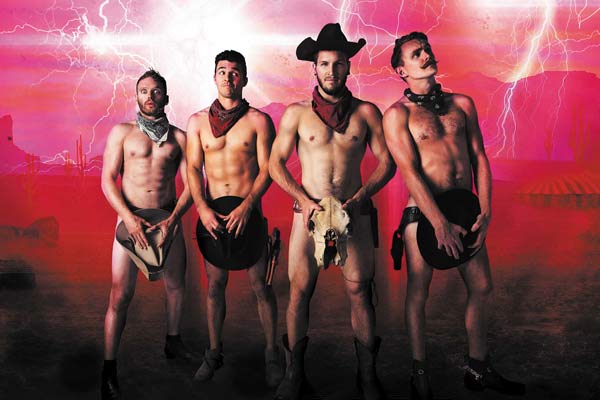 Harris describes 'Railed' as "laugh-out-loud funny": "When we started making the show we didn't expect it to be a funny show, when you categorise it for the Fringe Festival it would definitely be circus, whereas now we could get away with putting it under the comedy genre because it's pretty funny the whole way through.
"It's one of the nicer reviews we get when after a show people go 'I didn't expect it to be that funny', which is really nice for four performers who didn't specialise in comedy or anything like that."
In 'Railed', Harris plays one of four cowboys who get involved in a number of hilarious hijinks and extreme stunts. He's looking forward to tackling some over-extreme stunts off stage while he's back in Perth.
"I have so many activities planned (while I'm in Perth). I learnt how to kite surf and now every other day I'm going to go to the beach and kite surf. A friend bought a boat so I'm going to go snorkelling and I'm also a part-time sky diver, so I've got all the activities planned."
In addition to performing and making the most of a West Australian summer, Harris is looking forward to being back in the Fringe World Perth community. "I honestly just love the community, it sounds cheesy but we go to a lot of festivals around the world and the Fringe Festival especially in the Perth community is just incredible, everyone is so nice and so lovely and there's always a good party happening. It's so much fun."
'Railed' plays The West Australian Spiegeltent at the Woodside Pleasure Garden (17-26 January) and The Edith Spiegeltent at Yagan Square (28 January-9 February).