Orchestral music is back in full force in 2021 – Queensland Symphony Orchestra (QSO) will present 18 concerts throughout the year including three commissioned world premieres and the Maestro series: a collection of ten world-class classical celebrations.


Soloists performing with QSO in 2021 include Piers Lane, William Barton Grace Clifford, Diana Doherty, Joseph Nolan Emma Pearson, Lorina Gore, Rebecca Cassidy and Simon Gleeson.
Meanwhile, leading the conductor line-up is Laureate Johannes Fritzsch, together with Dane Lam, Umberto Clerici, Elena Schwarz, Benjamin Northey, Max McBride, Alexander Briger, Benjamin Bayl and Guy Noble.
The season opens with 'QSO Favourites', celebrating pieces from Beethoven to Bolero, with premieres, movie music and classical warhorses.
QSO musicians Irit Silver and Alison Mitchell will perform a world premiere double concerto for flute, clarinet and orchestra by Australian composer Gordon Kerry, during the 'Pictures At An Exhibition' performances.
In June, 'Epic Sounds' will feature the world premiere of a new work by Australian didgeridoo player and composer William Barton. The instrument's sound will fill the concert hall in a performance also featuring Wagner's overture to 'The Flying Dutchman' and 'Symphony No.5' by Sibelius.
Then, 'Queensland's Finest' in September will feature three of Queensland's brightest musicians, together for the first time. The performance includes the world premiere of a new composition by Sebastian Lingane and is conducted by Dane Lam. They're joined by pianist Jayson Gillham.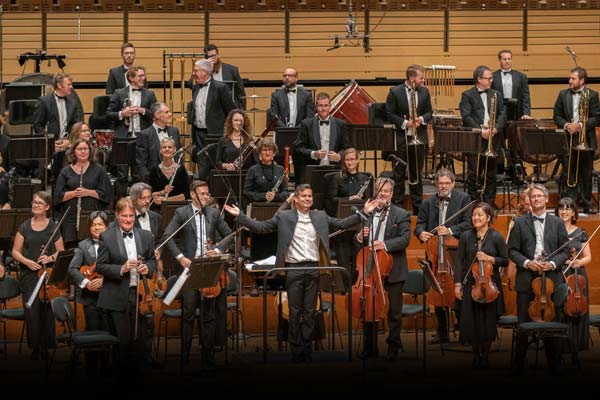 There's also plenty to experience outside of the classical realm. 'Cinematic' is a concert featuring a mix of music from blockbuster films. Australian singer and actor Simon Gleeson joins soprano Lorina Gore in the 'Musical Theatre Gala', featuring some much-loved show tunes from Broadway to West End.
QSO will travel throughout Queensland to perform, educate and inspire. The regional touring programme is an important part of the orchestra's commitment as the orchestra representing the state.
"During 2020, we have been extremely disappointed that we have been unable to deliver live concerts to the people of Queensland," QSO's CEO Craig Whitehead says, "however we've created a fantastic range of online content from musicians' homes, backyards, parks and playgrounds, playing all sorts of music, from Bach to 'Baby Shark', an epic anthem collaboration with the Gold Coast SUNS and the Brisbane Lions and of course at the AFL Grand Final."
"We know that nothing can stop the music of QSO and our Season 2021 will celebrate all that is joyous, uplifting and new. The diverse line-up for 2021 shows again Queensland Symphony Orchestra's commitment to being an orchestra for everyone."
Tickets for QSO's 2021 season are available now.
QSO's 2021 season begins with 'QSO Favourites' in February.