Language is a funny thing. It's easy to miss in the constant motion of the day but when used well, words can shape the world.
They can change minds, heal or create wounds and force us to behave in ways we might never have imagined. There's power in language. Religions and ideologies thrive on the ability to spin words into stories into philosophies. As the country tears and tinkers at its moral compass in the name of a plebiscite, it's a rather perfect time for an event like Queensland Poetry Festival (QPF).
The Queensland Poetry Festival is the sort of event easy to overlook yet impossible to forget. A four-day celebration of, unsurprisingly, poetry and prose, it's the go-to event for some of the best poets from around the globe. But at its heart, it's a sacred space for truth seekers, lovers of words and people who are tired of hearing the same overworked banalities given voice. You want to listen to a sales pitch about a book, you head to social media. You want to understand the hearts of other human beings, you go to QPF.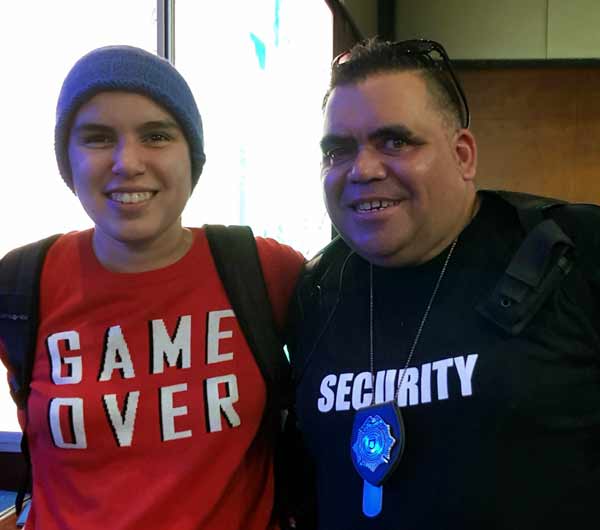 Ellen Van Neerven and Samuel Wagan Watson - Image © Kylie Thompson
From 24-27 August, the Judith Wright Centre played host to an international convoy of word-shapers and storytellers, all willing to lay truths and hearts on the table in the name of honest conversation. The theme this year, 'distant voices', was a promise to festival-goers to bring together a range of voices, ideas and experiences – a promise to bring diverse and honest conversation to the festival scene.
QPF is poetry at its absolute best – poetry when the fripperies are pushed aside and we're gifted with the passionate truths of disparate souls. Ruthlessly thought-provoking, filled with warmth and humour (even fun), yet somehow still a welcoming and safe space for vital conversation, QPF is making a name for itself as one of the country's best literary festivals.
In bringing those distant voices home, QPF also fought hard to humanise the groups we're often taught to be wary – even afraid – of. Poets like Quinn Eades, Ellen Van Neerven and Omar Sakr brought the dignity, compassion and heart back to the increasingly malicious conversation around being LGBTQI in Australia. 'Clozapine Clinic', the opening salvo of the festival, showcased poets who struggle with mental illness, not only celebrating their creative talents, but revelling in the chance to show just how alike we all are in the end.
Sachem Parkin-Owens and Ali Cobby Eckermann - Image © Kylie Thompson
Our First Nations poets were out in force, with Ali Cobby Eckermann, Ellen Van Neerven, Samuel Wagan Watson and Tony Birch among the audience favourites. Newcomer to the scene and co-winner of the Oodgeroo Noonuccal Indigenous Poetry Prize, Sachem Parkin-Owens, brought the room to tears with his award winning piece, 'My Ancestors'.
Though perhaps it was the 'Writing Through Fences' events that really drove the conversation around inclusivity home for festival-goers. 'Writing Through Fences' was an artistic initiative giving voice to former and current residents of Australia's detention centres. Artists like Hani Abdile and Ahmad Aeinjamshid made it impossible to ignore the humanity of people currently being threatened with a return to the camps and for some of the women who've been allowed into Australia, back to the guards and staff who allegedly raped them.
Hani Abdile - Image © Kylie Thompson
But though there are weighty conversations at play, this certainly isn't a festival devoted to stoic intellectualism. Instead, it's a melting pot of comedy, music, debate, art and integrity that's increasingly hard to give quick and glib bios for, with a range of talents on offer. The 'Nomad Travelling Theatrette' brought the laughs with their 'solicited advice' surgery; a quick respite from the constant rush of motion within the Judith Wright Centre. And how can any event truly be serious with The Bedroom Philosopher, or Michael Leunig, in attendance?
Poetry, at its heart, is a deeply personal, often political, exploration of the world around us. This year's QPF came out punching well above its weight in terms of keeping the spotlight away from just another chance to hock some books. With so much talent on show this year, I can't wait to see what Co-Directors Anne-Marie Te Whiu and David Stavanger bring to the 2018 festival.