'Puffs', written by Matt Cox and presented by Brisbane Arts Theatre, is just one of those feel-good, silly, cheesy plays that would be terrible if it wasn't completely brilliant.
Directed by Hannah Kassulke, it's the story of a bunch of misfits at a suspiciously familiar magic school, and their underdog story as the ones in the background often forgotten about.
It's a perfect motley crew of a cast – Bailey Sprecak as Wayne is hilariously try-hard and bubbly, just trying to fit in and be a hero. . . Kyle McCallion is completely out of place as the adorably nerdy Oliver, and Hannah Boyd does an excellent job separating herself as the downtrodden, all-black-wearing Megan.
Douglas Berry's task of playing multiple leading characters is nothing short of chameleonic – one second he's the hilarious headmaster, then Moody, then Snape. . . And he absolutely crushes each of these performances. I'd have to say Snape is my favourite, for sure.

Image © Images By Anderson
Meanwhile it's a total joy to get regular narrations from Eloise Newman, who is gorgeously charismatic and puts the pieces together for us mere audience members with class and humour. Ben Kasper is a stand-out in the shoes of J. Finch (who is definitely NOT imaginary!!) and the physical embodiments of magic (trust me, it works a charm. . . No pun intended) played by Eleni Koutsoukis and Phoebe Lovell added something really interesting, dynamic and sweet to the staging of 'Puffs'.
Speaking of the staging, set design from Tim Pierce is minimal but effective, lighting from David Willis nicely complements the performance, and the cast is dressed with precision by Erin Tribble.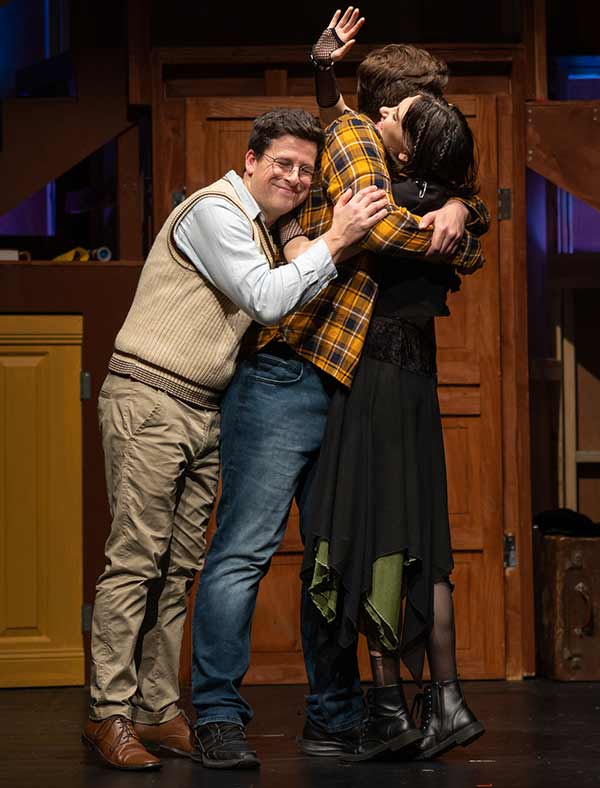 Image © Images By Anderson
'Puffs' as a theatre work is expertly written – filled to the brim with references to 'Harry Potter' (including a visual gag poking fun at the behemoth that is Book Five and a jab at the sudden Dumbledore cast change between Film Two and Film Three) sure to get the sides of any Potterhead splitting, whether you're a die-hard book and film follower or a casual fan of the franchise.
Outside of this though, it's a genuinely sweet tale – one of finding yourself when you're lost, one of appreciating those around you, one of the importance of family even in those not related by blood, and one of strength and courage in hard times. It's really great, and a hell of a lot of fun.
'Puffs' is playing Brisbane Arts Theatre until 31 December.