A familiar adventure starring a certain boy wizard is approached from a different perspective at Brisbane Arts Theatre in 'Puffs'.
You know the one – a magic school, witches and wizards. . . But did you ever hear the story of the Puffs? Probably not, which is where 'Puffs' comes into play. It's the untold story giving audiences a new look at a familiar tale, this time from the perspective of three new heroes who are simply trying to make it through magic school.
'Puffs' takes a second look at this well-loved story, a second look which moves the misfits and those in the background to the front – to the spotlight. This is a tale for anyone who has never been destined to save the world.
The show was a sell-out sensation in New York, playing from 2015-2019, and has been brought to life by Matt Cox with direction at Brisbane Arts Theatre by Hannah Kassulke.
Here, we chat to 'Puffs' Director Hannah Kassulke about the show.
This is a different perspective on a story known by millions. Tell us a bit about 'Puffs'!
'Puffs'. They are the ones in yellow; they are often underestimated, and they are so full of heart. This show follows their story through the eyes of Wayne Hopkins, as they attend magic school at the same time as a certain other wizard boy. It's a hilarious, parody-style show, that brings a fresh, creative perspective on the story we already know so well.
What element of 'Puffs' is most effective, do you think?
I think the effectiveness of 'Puffs' comes from the characters being so relatable, and also so different from those that we already know. They are from the Potterverse, but they also don't really fit in, and this is what makes their story so unique. We all have moments where we don't really fit in, and the Puffs find strength in that, together.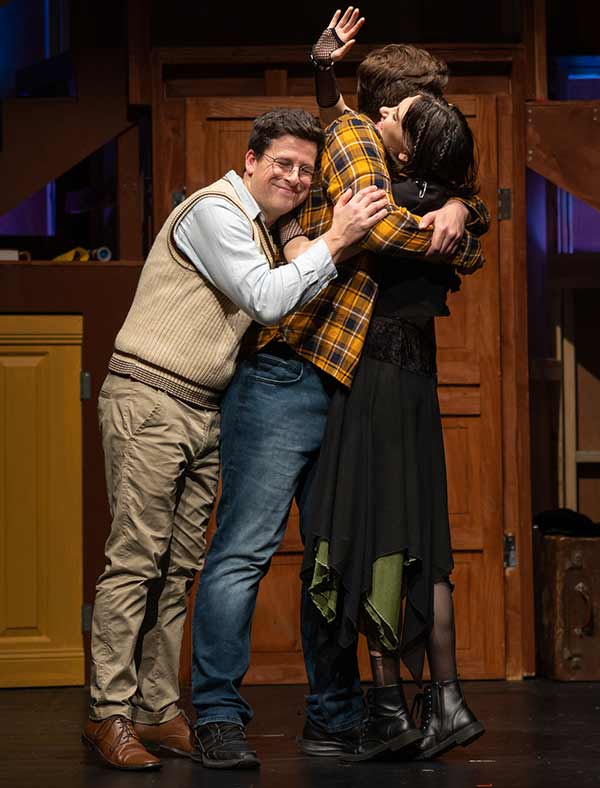 What has it been like to direct the show?
Fun. That is the first word that comes to mind. The cast, crew and creative team that we have on board are incredible, and it has made the process an absolute joy.
What has been the most challenging part about being in the Director's chair?
The logistics of the show are complex. The show has 47 scenes, nearly 60 characters, and only 13 actors, so working out how to stitch it all together into a seamless show that doesn't allow for a dull moment, has been a welcome challenge to conquer!
And how about the most rewarding?
This is an ensemble show in every sense of the word. The teamwork that this show requires is immense and seeing everyone come together has been heartwarming. Everyone who has worked on this production has really formed a little 'Puffs' family. No one is there for themselves, they are there to lift the others up, give the audience a fantastic show and also have a really good time doing it!!
Who is your favourite character in 'Puffs' and why?
That's like choosing your favourite child. I'm going to say Voldy, just to be rebellious.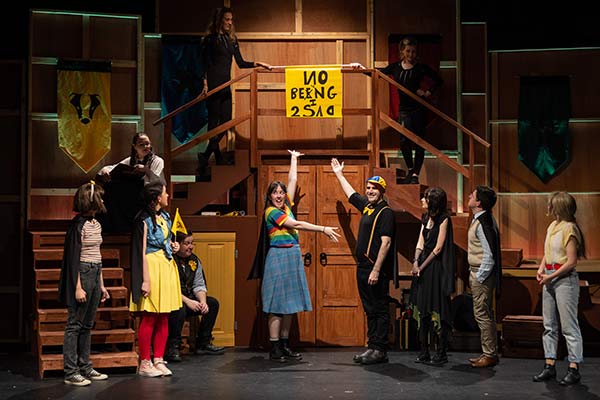 Who will relate most to this show?
Anyone who grew up reading or watching 'Harry Potter' will love this show. You don't have to be the biggest Potterhead, but if you are, it is definitely not to be missed. The show brings together all the different facets of the Potter universe, from the books, to the movies, 'The Cursed Child', and even the internet memes. But you certainly don't need to be across all of it to have a fun time. Warning that this one is not for the littlies, and we give age 15+ recommendation.
It's been open for a little bit at Brisbane Arts Theatre. How has the reception been so far?
We've heard only positive feedback, and the frequent laughter from the audience during shows is a pretty good indicator of what the show is like. People leave with grins on their faces, and their hearts a little lighter. The Puffs bring out the best in everyone. We had one reviewer write that it was it was the most fun they have had in a theatre for as long as they can remember, that was great to hear.
What are your hopes for the remainder of the season?
I just want people to come and see this show! It's a fun time for all involved, and a much needed salve for everyone given recent years. Brisbane Arts Theatre, especially, deserves to see people flooding through the gates – COVID left no theatre unscathed, and 'Puffs' is the perfect excuse to come and support community theatre of the highest quality!
'Puffs' is on at Brisbane Arts Theatre until 18 December.