Physical comedy is at its best when it comes to 'Scotland!'.
Combining elements of mime, clown, vocal sound effects, Scottish folk songs (uniquely sung Scottish folk songs at that!), absurdly complicated rhythmical body percussion sequences and perhaps the most important... Whisky!
After touring Australia and Edinburgh to sold-out shows in 2019, The Latebloomers are back with their award-winning hit, 'Scotland!'.
Here, they pen an open letter about 'Scotland!'.
"We're off! Off on a trip to a world of joy and laughter, and everyone's invited! Including you! We're off to the land of lochs and legends. The land of whisky, haggis and the highland games. We're off to Scotland!
Who's heard the glorious sound of the bagpipes and not had their hearts stirred as never before? Who's hiked through the highlands and not had their breath taken away by the unrivalled splendour of the ancient landscape stretching out before them? Who's tasted a dram of fine scotch whisky and not longed for a dram more?
You love Scotland and we love Scotland and what better way to share our love of Scotland than with a show! A show full of joy! With hiking, hunting, fishing and shortbread. With pipes and drums, and the Scottish folk songs that inspired us to leave our old lives behind us and travel the world performing our nonsense to as many people as we can. Loch Lomond! Oh Flower of Scotland! Auld Lang Syne! How we have sung, danced, and cried.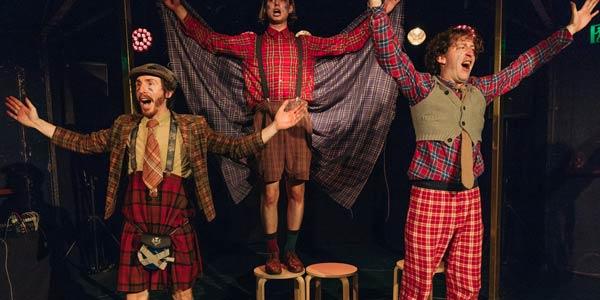 Image © Stacy Long
But who are we? We three lively lads, we three frolicsome fellows, we three high-spirited Scot-lovers leaping around the stage? We are three men full to the brim with boundless joy! And we want to spread laughter and happiness as far and wide as we can. We want to bring everyone into our world and make them laugh as they've never laughed before!
We've done the show across Britain in theatres, pubs, and back gardens. We performed to Paris sophisticates and then headed to the south of France to play to proud Provençals who don't speak a word of English. We've gone north to the mountains of Scandinavia and we've travelled east, where even the most stony-faced eastern-Europeans cried with laughter.
In 2019 we graced the shores of the land down under to rave reviews and we loved it so much we've decided to come back to Australia! The other side of the world, again! So we invite you, the people of Australia to join us for an evening of song and silliness. Let us take you on a wild ride you will never forget and make you laugh until your sides ache. Come with us – to Scotlaaand!
Love,
The Latebloomers"
'Scotland!' plays The Gold Digger at Fringe Central 17-24 January (Perth Fringe World) as well as Le Cascadeur at The Garden Of Unearthly Delights 18 February-1 March and The Pocket at Stirling Fringe 22-23 February (Adelaide Fringe).