The Orava Quartet has returned to Australia after performing all around the world.
They'll bring their unique sound to Redland Performing Arts Centre, playing a programme of Haydn, Kilar and Brahms.
Here, cellist Kaz Kowalik pens an open letter.
"Dear readers,
Kaz here, cellist from the Orava Quartet. After concerts in Brisbane and Toowoomba, we are now in the thick of rehearsing Haydn, Kilar, and Brahms and can't wait to share these works with you all at Redland Performing Arts Centre in May! This is our first time performing there and we can't wait – not only is it a beautiful space with so much music, theatre and art going on, we have heard so many great things about the acoustics too!
While we do play some contemporary classical music, what we love most is bringing our 'signature' passion and energy to the pillars, if you like, of the String Quartet repertoire. The classic works that have stood the test of time yet can still be heard again in new ways, or enjoyed for the very first time. Our first album, for Universal Music, which we are honoured (and humbled) to have on Deutsche Grammophon as their first ever Australian signing and release, features romantic Tchaikovsky and Rachmaninov, alongside Shostakovich's dramatic eighth string quartet; well-loved works to which we bring our own sound and interpretation, while remaining true to the score. Similarly, at Redland, we'll perform some Haydn: known as the 'father of the string quartet', he was a classical composer pivotal in the development of chamber music and inspired other composers to write more string quartets after his own. The one we'll perform exemplifies simplicity at its finest. In four movements, it's one of Haydn's later works that really showcases his genius and mastery of the form.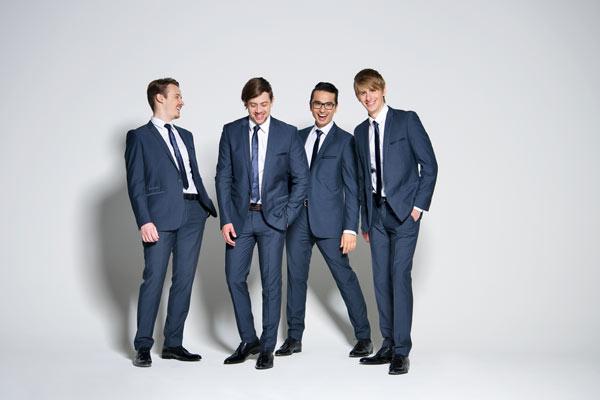 We hope Wojciech Kilar's 'Orawa' will transport you to the glorious Tatra Mountains of Eastern Europe, with driving rhythms and rustic melodies... Kilar was a celebrated Polish composer – my brother Daniel (first violin) and I are of Polish heritage – and outside of his country was renowned and internationally awarded for his music for film, including Bram Stoker's 'Dracula', and Roman Polanski's 'The Pianist'.
The last piece on the programme is Brahms' expansive quartet in A minor, which is romantic and noteworthy for its crafty use of canons – a favourite device of JS Bach – with warm melodies and a dash of Hungarian folk accents too.
We hope to see you at our concert – one of the highlights of each performance, for us, is getting to meet or catch up with our audiences after the show! We'll be signing our CDs in the foyer, so please don't be shy. Dan, David, Tom and I are actually based here in Brisbane and the Gold Coast, but with the help of some private support, tour a fair bit around Australia. And in July this year, overseas to Canada, where we've been invited to a couple of festivals in Montreal and Ottawa.
We're really looking forward to performing for you at Redland.
Thanks and see you soon."
Orava Quartet play Redland Performing Arts Centre on 17 May.