Redland City Council (Redlands Coast, Queensland) is holding a free community celebration of Aboriginal and Torres Strait Islander culture at their NAIDOC Week Showcase at Redland Performing Arts Centre (RPAC).
NAIDOC Week is an annual celebration of Aboriginal and Torres Strait Islander culture and history which is traditionally celebrated in July. This year the celebrations were postponed to November due to COVID-19, and they will hold extra significance as an important opportunity to connect and celebrate as a community.
The theme for this year's NAIDOC Week celebrations is Always Was, Always Will Be, and recognises that First Nations people have always occupied and cared for this continent for over 65,000 years. This afternoon of entertainment and activities will be headlined by Joe Geia and will feature a fabulous range of family-friendly cultural demonstrations and activities.
Here are five ways to partake in the event at RPAC.
One
Enjoy free live music on the outdoor stage from renowned singer-songwriter, guitarist and didgeridoo player, Joe Geia. In a career spanning over three decades, Geia has been an influential figure in the development of contemporary Indigenous music and his 1988 song 'Yil Lull' is regularly described as Australia's unofficial Indigenous anthem.
Two
See a fascinating cultural demonstration and talk by Quandamooka man Matthew Burns, complete with a range of Aboriginal spears and weapons, and didgeridoo playing.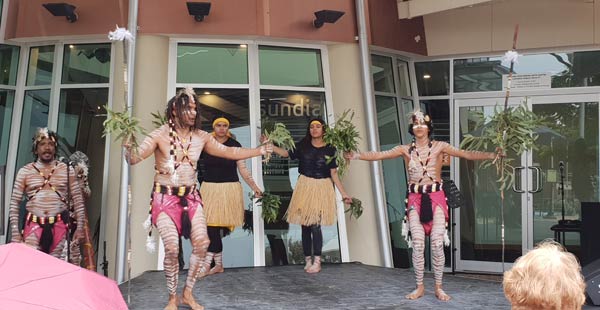 Three
Excite your tastebuds with a mouth-watering bush tucker food demonstration from Kieron Anderson from Yalabin Dining, with the opportunity to taste some of the creations at the end.
Four
Watch and take part in a traditional smoking ceremony to cleanse your spirit and ward off bad spirits.
Five
Be energised by the Yulu Burri Ba Dancers when they perform on the outdoor stage as part of the Opening Ceremony or join in one of the children's Indigenous dance workshops.
The NAIDOC Showcase is set to be a truly memorable afternoon with lots to see and do in a celebration of the final day of NAIDOC Week.
RPAC's NAIDOC Showcase is on 15 November. NAIDOC Week runs from 8–15 November.