A show combining four generations of one family is unusual, but that's exactly what you'll find in Director Jason Klarwein's 'My Name Is Jimi'.
If you were a fan of 'Redfern Now', Jimi Bani will be a familiar face and you'll also get a chance to meet his grandmother, son, mother and brothers! The show was conceived when Jason met with Jimi's father, several years ago.
"Jimi's story is quite an unusual one," Jason says. "He suggested the idea of telling the story of his family history. As we got talking, he suggested I go to Thursday Island to meet his father, Dimple. I sat down with him under a tree and we just talked and talked. Sadly, he passed away in that time so the show is sort of a tribute to him and what he represented as a chief of the Wadagadum people."
Along with brothers Richard and Conwell, it also features Jimi's son Dimitri who, at the age of 15, brings a fresh element to the show.
"The generational issue is that a lot of the teenagers from the Torres Straits aren't interested in learning the traditional languages or dancing. Technology is partly to blame, everything is so Westernised, even here in Australia, so Island dancing isn't seen as particularly cool. This show tries to mash technology and tradition together. We try to make it as accessible as possible not just to mainstream Islanders but also to Australians. It's great to see Dimitri on stage because you can see him struggle with both worlds."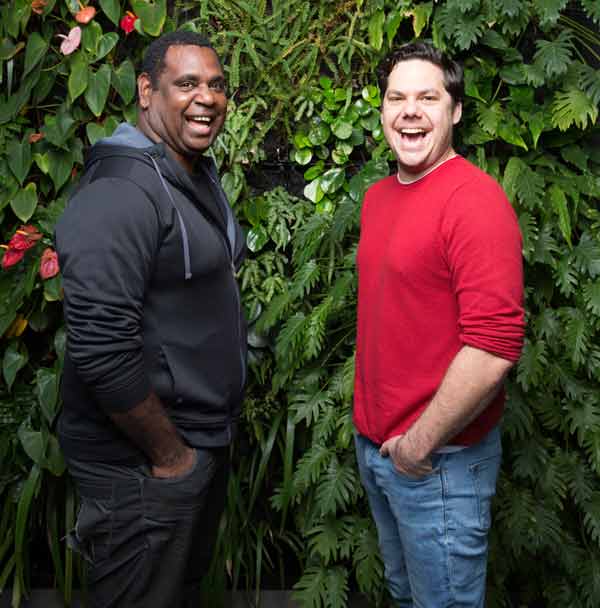 In contrast to Jimi's son is his grandmother who can speak fluent Kala Lagay Wa, a language spoken in the Western part of the Island. Three other languages, Tok, (what most Islanders speak, also known as Pidgeon Creole), Yumpua and plain old English are also spoken, offering an authentic experience. The different members of the family each offer a unique perspective from Mabuiag Island, yet it all melds together, often in amusing ways, especially as Jimi's son is still learning a lot about his roots and getting embarrassed by his father busting some breakdancing moves on him. With just a few hundred inhabitants left on Mabuiag, it's vital that its history is preserved and taught to a new generation of people regardless of race.
Jason stresses that it's not simply a history lesson though.
"The first half of the show is hilarious and the second half is cultural. There's traditional Island dancing, breakdancing, and the music is as diverse as N.W.A to disco! There's also a wireless camera that projects the performers' stories onto the screen where they'll talk about cultural artefacts, fishing and other yarns. There's something about Jimi's family that's just fascinating to watch on stage. It's so powerful because of the four different generations. There's personal stories and a larger story about knowing who you are and finding out your cultural roots. I think everyone can relate to finding out about your background and what made you the person that you are. It's an exciting show to watch. You'll see something you've never seen before. It's an emotional show but very entertaining."
'My Name Is Jimi' plays Queensland Theatre 22 July-13 August.