The term 'convergence' has become something of a buzzword these days – particularly in tech circles – but what does it mean in art?
If we look to the dictionary 'convergence' is defined as 'the point at which two or more distinct genres, technologies, industries, or devices form into a new unified whole through the assimilation of form, function, or development'.
Okay, with this in mind we can better understand Expressions Dance Company (EDC) and Opera Queensland's wonderful collaboration – 'Mozart Airborne'.
Here we have two strong, independent entities joining together to deliver a unique event that explores and celebrates the music of Mozart through sound, light and movement. This bold, ambitious and sometimes challenging programme takes six of the best – six choreographers, six singers and six dancers (along with a superbly talented concert pianist) and shapes these disparate talents into a new and exciting programme that breaks fresh ground.
There are twelve segments to the programme, each a self-contained but complementary vignette staged to some of the best known and most loved works from the musical prodigy. 'Don Giovanni', 'Cosi Fan Tutte', 'Figaro' and 'Requiem' all get an outing along with several lesser known pieces.
With such a huge and talented cast involved and so many individual highlights to consider, it is impossible to name everyone deserving of special mention but on opening night there were several standouts worth noting.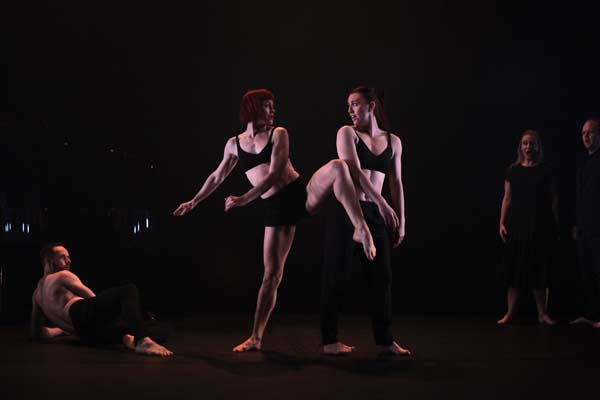 Image © FenLan Chuang
From EDC – Elise May and Ricard Causer proved once again what valuable assets they are to the company, making outstanding contributions in their dual roles as choreographers and dancers.
Michelle Barnett is also a force on stage and will be sorely missed when she joins the company on tour in China. In her time with EDC she has established herself as a dancer of enormous promise with the world at her feet.
From Opera Queensland, Sarah Crane, Hayley Sugars and Dominic J. Walsh excelled in their roles, showcasing their virtuosity and range as did all the performers who responded to the musical direction of Narelle French.
Supported by the talented pianist Alex Raineri, the singers were given ample room to explore the scope of the compositions and allow their personalities to come forth. They did not disappoint.
At the end of the night, the show belonged equally to Natalie Weir and her co-producer Linda Hume with their authoritative interpretation of 'Lacrimosa' from 'Requiem'. With the full cast on stage this evocative and moving work of rebirth and change was a powerful finale to the evening and ensured 'Mozart Airborne' will be remembered long after this season ends.
In summary: Dance lovers will love it. For the curious or the culturally adventurous – it is absolutely worth the investment.
★★★★★
'Mozart Airborne' plays at Queensland Performing Arts Centre until 12 August.