'[MIS]CONCEIVE' is a modern dance production that confronts lingering questions about the identity of Aboriginal Australians through a fusion of hip hop, physical percussion and rhythmic cultural patterns.
Composed and choreographed by Thomas E.S. Kelly, who also runs performing arts company Karul Projects, the show combines Aboriginal cultural knowledge with contemporary gestural motifs in a mash-up that simultaneously rejects, reveals and re-educates modern (mis)understandings of Indigenous identity.
"'[MIS]CONCEIVE' is a fast physical work. It's intense, humorous and makes you think," Thomas says. 

"It's matter-of-fact and brings you into the conversation and the issues it presents. I'm really proud of this work, the content and my team and I hope you enjoy watching and participating as much as we will whilst performing."
The show premiered in 2016 and has since toured both nationally and abroad, and won a Green Room Award. Its Adelaide Fringe appearance features powerful performances from Thomas and an ensemble made up of Taree Sansbury, Caleena Sansbury and Natalie Pelarek.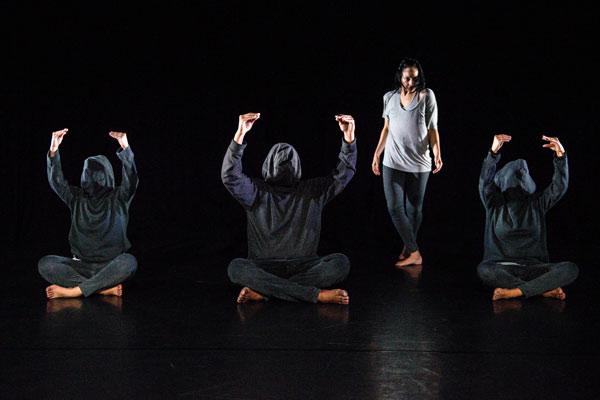 Image © Simon Wood
"I'm excited to share my signature style with audiences in Adelaide, especially since two of my original collaborators, Taree and Caleena Sansbury are both Kaurna, Narungga and Ngarrindjeri women of South Australia, and it's no lie that Karul Projects is where it is due to their influence," Thomas says.
'[MIS]CONCEIVE' argues that knowledge does not equate to comprehension and seeks to share stories of Indigenous knowledge and its relevance and responsibility in helping to inform Australia's present and future national identity.
Kelly and his ensemble move with assured physicality in this high-energy work that pulses with humour, play and personal stories. Voice and body become pathways to traditional dance and song, as repetition and disguise make way for moments of discovery in '[MIS]CONCEIVE'.
'[MIS]CONCEIVE' plays Ngunyawayiti Space (Tandanya Theatre) at Tandanya National Aboriginal Cultural Institute 5-7 and 11-14 March.