On the eve of the lifting of the ban on dancing in Adelaide, the Bass Fam Creative ensemble in 'MATADOR' got footloose, reminding us all how to strut, pop, and gyrate to attract a mate.
Bass Fam Creative's 'MATADOR' is what the lovechild of Shakira and J-Lo's Super Bowl halftime show and a Victoria's Secret fashion show would look like if it ran away to the circus. It's a sultry and flamboyant hour-and-a-half spectacle that's part fertility dance, part rite of passage, part self-awakening.
'MATADOR' begins like many first loves, on the dance floor to the refrains of Whitney Houston's cheesy late '80s anthem, 'I Wanna Dance With Somebody'. The rush of first love between the show's protagonist, a bull (Christopher Politis) and a matador (Pip Keltie) is then represented by aerial trapeze; how did we get so high so fast, this is dangerous, what if we fall? Then come the blindfolds, the whips, the kink, the blinding red lights of lust; in an instant, though, the lights turn blue, the songs are in a minor key, the bull has been wounded by a lancing blow. While he rages against the loss, it isn't until he faces his reflection, the man in the mirror, that he realises that his bullish pride has been his tormentor, not the matador.
'MATADOR' is thematically operatic but is soundtracked by contemporary empowerment bangers like Destiny's Child's 'Independent Women' and Vera Blue's 'Lady Powers' and bittersweet covers like London Grammar's 'Wicked Game' and Sigrid's Leonard Cohen cut 'Everybody Knows' from 'Justice League'.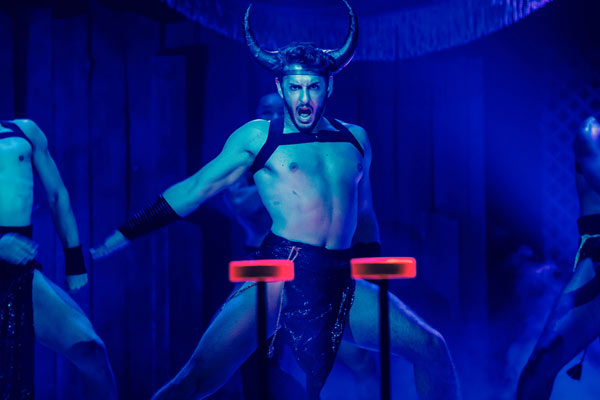 The dice are loaded in a bull fight, and it often feels like that in love too, but in 'MATADOR', the good guy wins, once he removes the horns. While the main narrative is a heterosexual courtship, 'MATADOR' is a show that represents love in all its forms; bulls can love bulls and matadors can love matadors, and no matter who we desire, we should be able to accept ourselves, and be accepted by others too.
Bass G Fam has written directed and co-produced, alongside Ranvir Marne, a Latin and contemporary dance/circus fusion with just enough narrative and circus to keep even the dance averse entertained, while the choreography of Gerard Pigg, Josephine Magliolo, Mario Acosta-Cevallos and Carmelo Pizzino is elite.
There's already a pandemic-induced baby boom going on but expect that trend to spike even further from this week; whether that is because dancing's back, or because 'MATADOR' has opened, will be hard to determine. If you've forgotten how to dance, how to love, or you just want to get your heartbroken by something other than a virus, 'MATADOR' is the show to see.
★★★★☆ 1/2.