A tortured tale of forbidden love comes to life in a triumph of dance, burlesque and circus in 'Matador', the first independent production by theatre-maker Bass Fam.
Partly inspired by a story as old as time itself and by Bass' own experiences, the show is about a matador, a bull and a love that dare not speak its name.
"It's not a literal story, it's more a thematic story," Bass explains.
"It takes you through the different stages of when you meet someone and the butterflies you feel at the beginning when you first get to know someone, then the doubt of whether you want to fall for them or not, or whether you're ready to let yourself go with that person and when you do, what happens? The sexual side of things – the lust and passion.
"Then because love is not always pretty and beautiful, we go through what happens when someone breaks your heart or when they cheat on you or when you fall in love with a friend and they don't love you back. It's a lot of these different stories that are inspired by events I've been through in my own life."
Described as a modern day fairy tale, 'Matador' explores the complexities of human relationships symbolised through the struggle between two natural enemies – bull and bullfighter.
"We flip the roles, the matador is a female," Bass reveals.
"I don't want to give away too much but she's got a duality to her character: she's powerful, strong and independent and she doesn't need a man at the beginning at the show at all – she doesn't want to be with a man, who is in this case the bull.
"You slowly start to see the other side of her, the vulnerable side, slowly start to come out as the story progresses and you see her walls start to break down as she lets herself fall for this metaphorical bull, this creature that she sees as an animal for most of the show.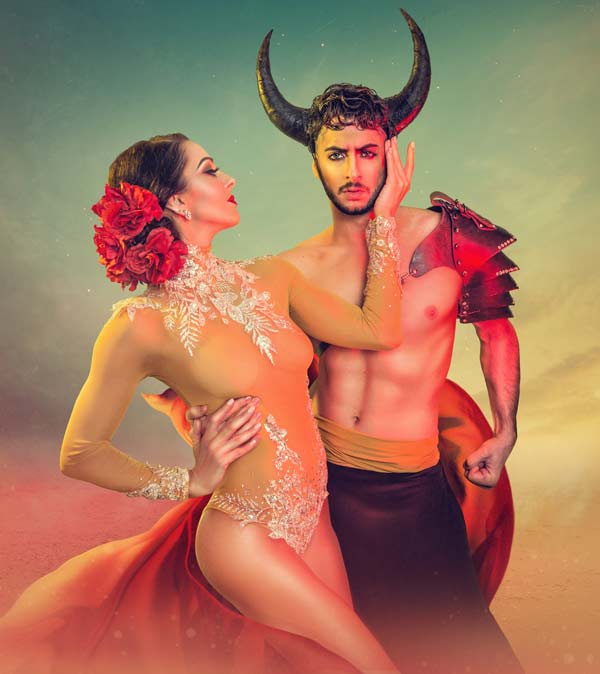 "The story goes to whether or not they'll be able to meet somewhere where she does see him as a human, where she does let her guard down, and whether he will show her the respect and love that she wants and that she deserves. Then you've got his own little struggles that he goes through of questioning himself and what he wants. That's where the love-torn bull comes in."
Told through an explosive blend of high energy dance, saucy pole dancing and hair-raising aerial acrobatics, 'Matador' is passion at its most passionate.
"My incredible bull and matador, they are fantastic - the level of expertise in dancing and performance from both of them," Bass says of his lead performers.
"Kelly Byrne is my matador and she's not just a dancer, she's also an aerialist and she does burlesque. Then you've got Christopher Politis who, again, there's so many different levels to both of them that make the characters so strong and make the people connect with them."
Like a bullfight or love itself, 'Matador' is all at once beautiful and bloody, daring and dangerous; plus there's the very real possibility someone will get seriously injured.
"It's a forbidden love, it's a union that you're not expected to see, that you're not meant to see in a love story," Bass says.
"Another layer of the show is whether they can beat the norms and beat the expectations and end up together, or whether they will fail at that. That's what people will have to come to the show to find out."
'Matador' is on at The Tivoli (Brisbane) 18-20 July and Adelaide Festival Centre 15-17 August.