The oft-studied 'Lord Of The Flies' comes to the stage in the Beenleigh Theatre Group's first production of 2018.
Based on the classic William Golding novel and adapted for the stage by Nigel Williams, Bradley Chapman directs a young all-male cast. For those familiar with the text, there is interesting staging and performances from promising new talent to draw you in. To audience members who have never read the book you're in for a treat with a text that works on two different levels.
On one level the story is simple, a group of school boys travelling via aeroplane crash on a deserted island with no adult survivors. A pecking order is established and continually challenged as they also try to survive in a harsh environment. On that level there is a lot to say about peer pressure, social constructs, testosterone-fuelled emotions running wild and bullying. Things all familiar to teenagers and on that level the young Aussie cast convey these still relevant truths while using the words of British school age boys from decades ago.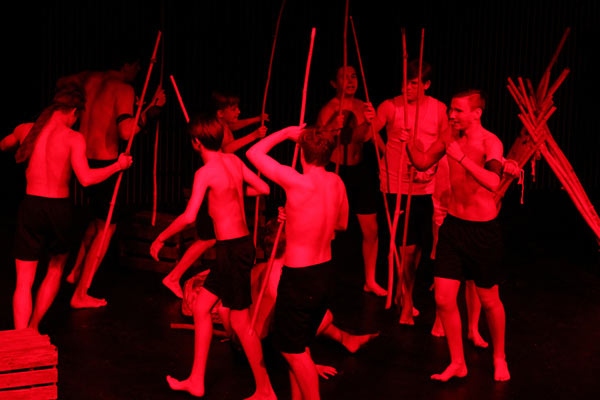 On another level Golding's book written in the time after World War II and during the Cold War serves as an allegory for many other things. How the powerful take what they want, how the other can be feared, how religion can be used to justify terrible acts and how quickly civilisation can break down in the race to take care of your own.
Under Chapman's direction the young cast of boys play the text straight and leave it up to you to interpret as you will. There are moments of great excitement and great despair and also some of humour. There has been a concerted effort by set builder Andrew Alley and lighting designer Logan De Groot to make this stage production exciting to watch with brightly lit backgrounds, platforms built in front of the stage and at the back of it. This conveys nicely people travelling around the island away and towards each other at various points but also lends a touch of the epic to proceedings.
Another ambitious move is the fight choreography from Justin Palazzo-Orr which is tough to pull off. With the audience covering such a wide berth of vision it's hard to not give away the blocking at some points. Jayden McGinlay and Nic Van Litsenborgh should be commended for seeming to remember all the moves from their fight scene and there were visible murmurs of shock from the audience when they perfectly landed some moves in unison with the sounds of impacts to sell them.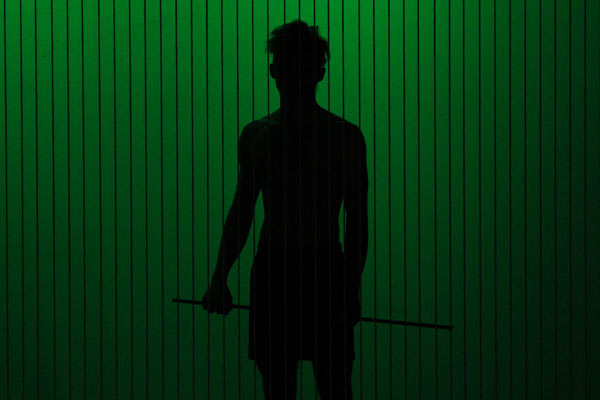 As great as the staging is, the praise should first and foremost go to the cast who disappear into their roles. They never broke character, missed their marks or failed to commit fully. They disappear into these personalities and give really natural, convincing performances. With the emotional devastation of the final moments of the play maybe there could've been more feeling displayed by the performers but maybe this is in keeping with the satirical mood and the need for some characters to not fully reckon with what has occurred.
As a dramatic piece which is thought-provoking and emotionally stirring, 'Lord Of The Flies' has been brought to life well by the Beenleigh Theatre Group beginning their new year of performances in earnest.
'Lord Of The Flies' plays at Crete Street Theatre until 3 February.