Formerly Metro Screen and then Cobbstar Studios, this Sydney TV studio has been transformed into The Reservoir Room.
With it being a little hard (impossible) to get out to a show, The Reservoir Room is bringing the show to you, streaming some of Australia's most loved entertainers from theatre, live music, cabaret and drag every Friday and Saturday night.
The concept kicked off on 5 June.
"At The Reservoir Room we are championing talent. We are leading with acts that have lost their work due to COVID-19," Entertainer, Executive Producer and host Catherine Alcorn says.
"We live by the mandate that no one is working for free, and audiences will view for a fee. This is our industry's new normal and we need to ensure our industry can survive these times with light at the end of the tunnel that isn't an oncoming train."
"As we still can't get to shows, we've devised a plan where we bring the show to you," host and three-time Gold Logie nominee Rodger Corser says. "The Reservoir Room is a throwback to live and dangerous TV, crossed with the personal and intimate feel you get from being in the audience of a great live show."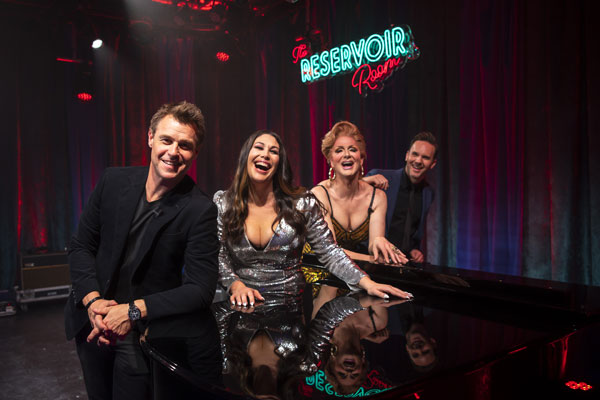 L-R: Rodger Corser, Catherine Alcorn, Verushka Darling and Daniel Edmonds - Image © Cassandra Hannagan
Coming up this week, Friday night (26 June) sees special guests writer/actor/composer/pianist Phil Scott, jazz trumpeter James Sarno, model/singer/actress Erika Heynatz and fabulous cabaret export Reuben Kaye.
On Saturday (27 June) Phil Scott will be joined by a few friends, including Jonathan Biggins, Amanda Bishop, Drew Forsythe and more.
Meanwhile, in the live music department on Saturday night, the James Sarno Quintet will take the reins with performances from Erika Heynatz, Reuben Kaye and Prinnie Stevens to name a few.
Click here for ticket information.
The Reservoir Room's live streams take place every Friday and Saturday night online.