Sort out your annual leave and set up your automatic email bouncebacks... Karen From Finance is hitting the road.
September sees Karen (drag queen from Melbourne) on a journey of self-discovery and self-annihilation, presenting high camp, spoken-word lip syncs, hilarious mash-ups and more. Jump on board the Finance express, things are about to get funny.
With more buffoonery and tomfoolery than a PowerPoint presentation filled with whacky transitions and WordArt, 'Out Of Office' is worth saying goodbye to the 80-hour work week for.
Here, Karen From Finance answers some questions about her show.
Okay, for those who don't know, HOW did this brilliant drag name come about?
Well, years and years ago, before I had even started considering doing drag, I was on my way to a house party when some friends and I found and bought some gross '80s prom dresses that were on sale from the Op Shop. We decided to wear them to the party that night, and once we were a few bottles of wine in, we started coming up with characters for the women that would have worn these dresses when they were brand-new, off the rack. I decided that the lady that went for my dress was a single, middle-aged woman who worked in finance, and was called Karen. Months later, I went in drag for my first time to my friend's 29th birthday party where the theme was Dolly, Denim and Diamantes. When I arrived, no one knew who I was so upon being asked, I told them that my name was Karen From Finance – and since then it's just kind of stuck!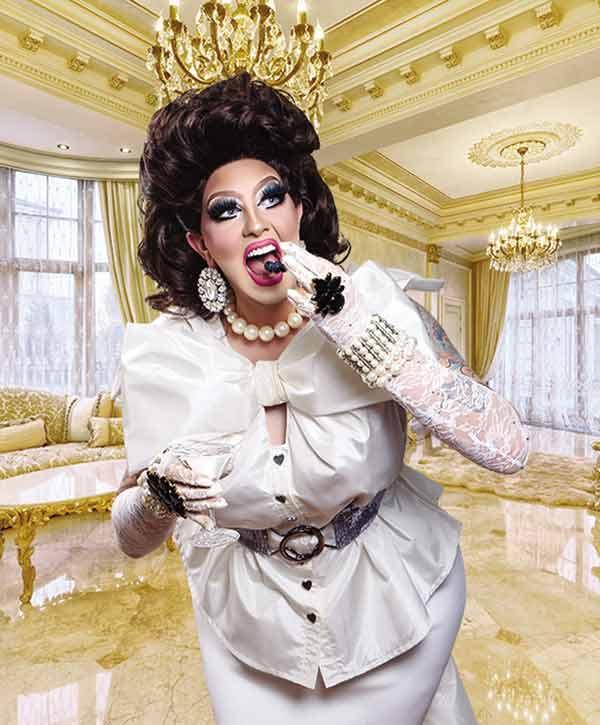 And what makes Karen From Finance who she is?
As much as we like to rip on the idea of Karen From Finance, I find that there's actually a bit of Karen From Finance in all of us, or at least, we all know a Karen From Finance. She's sweet – too sweet, and completely adorable. As much as we laugh at her total commitment to her role in the finance team and her friendless life where she lives alone with her budgie, Dantè, there is something incredibly relatable and familiar about Karen. She's not the monster that 'wants to speak to the manager' that we might see online, she's actually really compassionate – and when we give people like that a voice, they often have an incredible story to tell.
What can audiences expect from 'Out Of Office'?
'Out Of Office' is going to be a showcase of all we have come to love about Karen From Finance. It's a fully narrative-driven performance turned drag show! The music is super fun and camp, the story is really empowering and uplifting, and the show itself is completely outrageous and ridiculous. There'll be videos, animations, voiceovers, thunderstorms, brand new characters, with a whole lot of sing-a-longs and laughs to be had at the same time.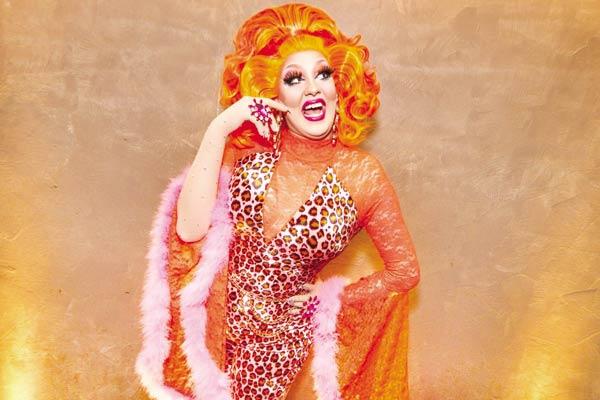 What goes into putting an hour-long one-woman show together?!
I have reached out to and worked with an incredible team of creative friends to bring this show to life. It's been a dream to put something like this together, and I have been lucky enough to call on some amazing friends who have all contributed in some way or another to the performance. It has been 12 months in the making, countless hours of rehearsal and editing, and many sleepless nights thinking up twists and turns for this roller coaster to take.
What are some of the most important lessons you've learned about the art of drag over the years?
Doing what you love is one thing, but giving the audience something to love is another. Sure, it's lovely to watch someone on stage who is clearly enjoying themselves, but when you can work out how to do it and take the entire audience on that journey of enjoyment with you too – that's the key to a great show!
The world is filled with queens from overseas crushing it of course, but it's equally important to remember Australia is home to some fierce talent too, including you! Who are a few of your favourite Australian queens? #supportlocaltalent!
There are queens all over Australia that I adore and love, but to name a few – there's Hannah Conda in Sydney; one of the most beautiful and hilarious queens on the scene, Wundes in Adelaide; one of the most beautiful and creative souls, interpreting the golden age of Hollywood with a modern twist, and there's Miss Ellaneous from Darwin; another queen with a heart of gold and a fierce political drive that we should all strive for.
Who's filling in for you in the finance department (an important job!) while you're on the road?!
It's a scary time in the world of finance. A few extra formulas and coding procedures in the MYOB and Quickbooks apps and my job is completely redundant! I'm hoping there's still a desk for me when I get back from this whirlwind tour!
If you had to pick one song to lip sync to for the rest of your life, it would be…
Dolly Parton's '9 To 5' will always be my number one, but Shirley Bassey doing 'MacArthur Park' would definitely be a hard one to leave behind...
Describe 'Out Of Office' in three words (that aren't 'out of office', of course…)
An exhilaratingly fervent adventure!
Final tickets for Karen From Finance are on sale now.
Karen From Finance Tour Dates
6 September – Gingers Cabaret (Sydney)7 September – The Melba Spiegeltent (Melbourne)8 September – Family (Brisbane)13 September – Mary's Poppin (Adelaide)14 September – Connections Night Club (Perth)