American flutist Jodie Rottle is a specialist in contemporary music and has premiered countless works by classical and jazz composers from around the world.
Comfortable in any space, Jodie has performed at the Brisbane Festival of Toy Music, Seattle's Town Hall, and New York's Le Poisson Rouge theatre. She is also a long-distance member of Dead Language, a trio which improvises and performs interdisciplinary works including everything from literature and white noise to toys and wolf howls in pop-up concerts around the world.
Jodie currently performs with Kupka's Piano and in collaboration with the Judith Wright Centre for Contemporary Arts and MakeShift Dance Collective, they are presenting 'The Human Detained', which features world premieres by four exciting young Brisbane composers.
What are your views of Brisbane as a city?
Brisbane is a wonderful mix of sunshine, good coffee, friendly people, beach proximity and all the amenities of a big city that anyone could want. I like to joke with my American friends that I live in Brisvegas – they get a kick out of that. They laugh, but I can see jealousy in their eyes, too.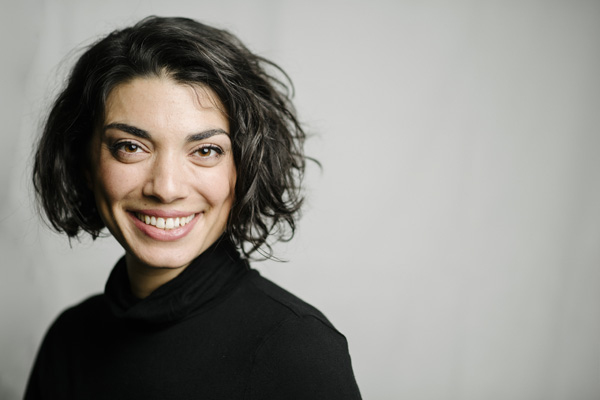 Jodie Rottle © Morgan Roberts Photography
How does Brisbane's music scene compare with other cities, such as New York or Seattle?
New York is its own beast and no city could hold a comparison. It's a thriving and eclectic part of the world that offers incredible opportunity to hear and see amazing music and art. It also smells like urine and can be harrowing at times.
I remember a friend saying to me, just before moving to Australia, that 'New York isn't a place to leave, it's a destination'. It was kind of a bleak thing to say to someone whose bags are already packed, but it still resonates as statement on the New York music scene – that it is perceived as the pinnacle. I'm not sure if everyone wants to be a part of the Brisbane music scene, but the city does have so much to offer in regard to musicians, creativity, landscape, and venues. Brisbane also seems to churn out amazing artists but they don't always stick around, which is a shame. Many who do stay local, though, are top notch. Go Brisbane!
Brisbane is very much like Seattle in terms of scale and vibe. I grew up in a suburb of Seattle, and I like to think that the Pacific Northwest is America's best-kept secret. The scene there is still gritty and consistently weird, and people are very interested in the local underground movements of all genres from grunge rock to classical. Perhaps Brisbane is Australia's best-kept secret. Seattle is home to both progressive artists and arts audience members, and that is such a precious duality. I think Brisbane could do with a few extra progressive audience members. Maybe this is my call to all forward-thinking Brisbane readers: go to more live shows, please! Inhabit our audiences to make our scene better, and bring your like-minded friends with you.
How did the group Dead Language originate?
Dead Language is a trio of myself on flute, singing cellist Meaghan Burke and pianist Tristan McKay. We formed in 2012 during our Masters programme in contemporary performance at the Manhattan School Of Music. We realised that the three of us shared certain wackiness and decided to bring that into an ensemble. Our performances include existing and new contemporary classical music, improvisation and our own original music inspired by everything from wolf howls to white noise. Our most recent show at a festival in NYC in June was more traditional but we did manage to incorporate a small shrine of stuffed animal toys.
Now that I'm based in Brisbane, we perform pop-up shows whenever we find ourselves on the same continent. Tristan and Meaghan are still based in NYC but they have trekked out to Australia for a tour, and we performed in Seattle last year. It seems like the distance would drive us apart but I actually feel like it has made our musical connection stronger as it allows us time to think and pursue only what we really want. We have a ton of ideas logged for future pieces, shows and excursions, and I like that we aren't in a hurry.
You've been with the group Kupka's Piano for the better part of two years; what have you learnt from this troupe that you have applied to your wider performances?
Kupka's Piano is amazing, and I am so lucky to be performing with such awesome people! It was difficult to leave friends and colleagues that I had musical relationships with behind, but the Kupka crew took me in as their own. This was so refreshing at a huge transitional time in my life and they made me realise that there are always new people to musically connect with. I try to incorporate this when I perform to new audiences and collaborate with other artists. The members of Kupka's Piano are also unbelievably committed to contemporary music performance in Brisbane, and I value their effort to grow the appreciation and scene Australia-wide.
For those out of the loop, what is 'The Human Detained' about?
'The Human Detained' is an hour-long production examining the titled theme through contemporary music and dance. Kupka's Piano and MakeShift Dance Collective – both Brisbane-based companies – teamed up with four composers to explore adversity and limitations, ranging from political to mental health issues, through an artistic lens.
The composers we are working with (Steve Newcomb, Brodie McAlister, Sam Wolf, and Michael Mathieson-Sandars) come from diverse musical disciplines, and audience members can expect to hear new music for flute, clarinet, violin, piano and percussion mixed with some electronics and contemporary choreography. Both musicians and dancers will be on stage and interacting with each other.
What are you most looking forward to about 'The Human Detained'?
There is a certain thrill that comes with premiering a new piece of music never before heard in public. I'm really looking forward to presenting four new works in one seamless production. Also, working with dancers is something new for me, so I'm excited to present music in a medium I haven't yet tried.
How will live music and dance combine in 'The Human Detained'?
Music and dance are an equal combination in 'The Human Detained'. There are four sections detailing a different narrative, and both sonic and visual performers will portray these ideas equally. The musicians are on stage and interacting with the dancers so there is no division of visual and aural roles.
Working with MakeShift Dance Collective has offered such an amazing perspective of performance. There has been a great mix of inspiration and I think we successfully incorporated an idea from everyone into the project. That's a pretty outstanding achievement.
Why do you think people should head down to the Judith Wright Centre and check out the performance?
'The Human Detained' will resonate with everyone. At some point we all battle tough issues or internal struggle, and if you don't then someone you know probably does. The show is a means of dealing with adversity and understanding how it affects our relationships and livelihood. There is a sprinkling of optimism in the show, too.
Also, see above about progressive Brisbane audience members. 'The Human Detained' is your chance to experience the latest local developments of Brisbane's contemporary music and dance scene.
If you could play in one venue anywhere in the world, where would it be and why?
Well, since I've already had the pleasure of performing at the Judy, I'll think of another. I saw a photo of a box-like venue made of glass at the edge of the woods, so it blends the view and beauty of outside with the acoustical benefits of performing inside. It really is the best of both worlds. I think it is located somewhere in Switzerland.
'The Human Detained' performs the Judith Wright Centre, 30 October.