There are hundreds of shows at Fringe World 2020 which will fill the streets with people taking in the mix of music, cabaret, circus, comedy and theatre.


Rushing among the crowd will be Jessie Gordon.
The Perth jazz performer might be the hardest-working person at Fringe World, taking part in multiple shows across the four weeks of the festival.
"It's a bit nonsense," Jessie says of the schedule which will see her deliver 50 performances over the 31 days of the festival. The singer will get to show off her abilities in a wide variety of genres.
"I love Fringe because it allows me to have the opportunity to be really diverse in what I get to perform. A lot of it is jazz and blues stuff, but I've got a western swing show, and there's times I get to branch out and do completely different things like my loop pedal show.


"'Jessie Gordon Is Out Of The Loop' is just me on stage improvising, making up songs, based on audience participation and just playing around on my loop pedal and creating music on my own," Jessie says of the show which will take her out of her usual jazz and blues genre.
The show is completely improvised and will be completely different every night, creating an event audiences can attend multiple times. Elsewhere in the Fringe World programme, Jessie explores different musical styles and perspectives.
'Queer Jazz' is a show which sees Jessie and collaborator Adrian Galante look into jazz and blues musicians who have included references to their sexuality in their work. The show takes in some big name composers like Cole Porter and Lorenz Hart, but also explores lesser known singers like Ma Rainey and Lucille Bogan.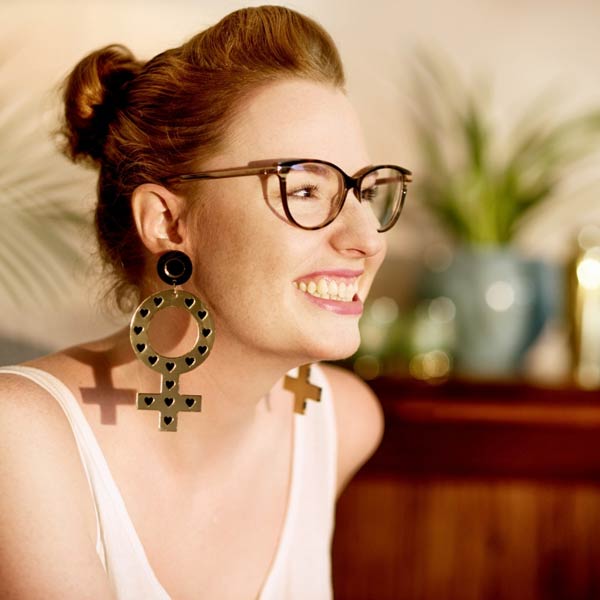 'Brassy Broads' will see Jessie take to the stage alongside singer Leah Guelfi and drag singing sensation Cougar Morrison to pay tribute to some memorable singers including Nina Simone, Ella Fitzgerald, Judy Garland and Liza Minnelli.
Jessie Gordon also teams up with steel pedal guitar maestro Lucky Oceans for several shows, one of them 'Ballads, Banksias And Beauty' sees them performing in front of film projections of Australian landscapes while delivering some of the best-known Australian ballads. 

"It's not jazz at all, it's all Australian pop music," Jessie explains. "There's lots of different stuff including stuff from Crowded House, The Waifs and The Pigram Brothers from Broome, alongside some original songs too."
'A Night Of Quite Original Music' will also see Jessie Gordon showcase some of her own creations: "I'm known for singing jazz and blues, and this will be quite a departure from that, it's quite pop-focused."
To make it through 50 performances in four weeks Jessie has a strict regime she sticks to. 

"It means taking care of myself, often I try to relax during the day, and try not to use my voice. No alcohol, no caffeine, get some exercise, stay hydrated, get lots of sleep. All those things doctors tell you to do, and not buying into other people's stress!"
Catch Jessie Gordon at multiple venues in multiple shows throughout Fringe World from 17 January-16 February.