How do we create ourselves and our relationship with the world around us? This is the apparent hypothesis of Dancenorth's choreographic experiment, 'If_ Was_'.
Artistic Director, Kyle Page, asked chorographers Ross McCormack and Stephanie Lake to each create their own 30 minute dance work.
But they must adhere to Page's rules: they could only select music from the same score, create costumes from a single pattern, utilise lighting from one design plot, and work with the same ensemble of five dancers. Within this framework they were free to fill in the blanks. Intriguingly, what emerges in these prescribed gaps is more oppositional than the same.
Ross McCormack's 'If Form Was Shifted' depicts a terrifying world where our actions are determined by forces outside our control. The piece opens with the discordant image of the dancers watching sound emanating from the on-stage speaker rather than listening to it. From the outset, we are being asked to consider a world where our bodies behave in ways we consider unnatural or at odds with social prescriptions.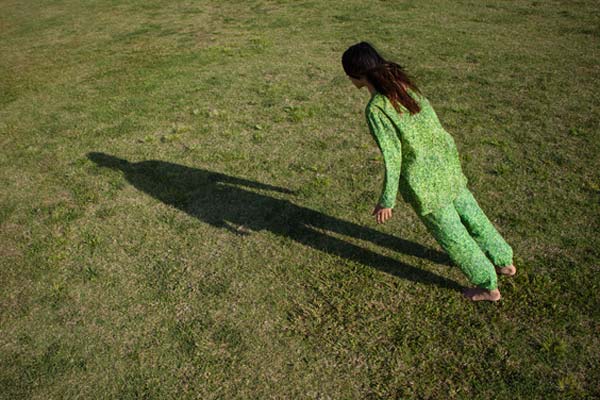 © Amber Haines

The dancers begin a series of robotic, angular, twitching movements that seem controlled by outside forces. While, in contrast, their gaping mouths and wide eyes plead with the audience to understand who they are beyond their physicality.
Their human desire to connect is constantly revoked as the dancers mask each other's eyes and mouths with their hands. This gesture, along with the wide-eyed-open-mouth facial expression, is repeated throughout the work. Both are used to powerfully to depict how easily we are pulled into social alignment. This is best articulated by the clump of writhing bodies that slowly turn their backs to the audience, their hands obscuring each other's faces, while they attempt to envelop a lone body. The single body becomes entwined within the group and reaches out to the audience, pleading for independence, before her identity is lost within the clump of bodies. McCormack's powerful, and appropriately exhausting work, depicts a somewhat ominous world where the mind has little agency over the body, and who we are is prescribed by the world we live in.
In contrast, Stephanie Lake's 'If Never Was Now' presents a more hopeful vision for humanity. Replacing the dark, neutral costumes with fluorescent pink pants, Lake injects vibrancy and life into McCormack's mechanised shell-like bodies. The dancers' movement is hyper-responsive to the world around them, organically transforming from one shape into the next.
Where McCormack's dancers were restricted to a vocabulary of vapid-fire micro movements, Lake's dancers shift from large languid movements to sharp, staccato foot-stomping with ease. These are bodies with the agency to move in response to their environment. And by doing so, they suggest we have the capacity to not only respond to the world around us, but to change it.
This is brilliantly articulated by the abundance of white Styrofoam beans that cover the stage. As the dancers move the beans ripple into myriad patterns created by their bodies. A shirtless male dancer slowly rolls across the length of the stage through the tiny beans, which look remarkably like whitewash on the sand. The beans stick to his skin and become part of his person, while his movements simultaneously change the pattern of the beans. This moment beautifully depicts a malleable world were bodies and environment are affected and changed by their contact with one another. Lake's vibrant work illuminates the human capacity to affect change, and our ability to evolve and grow from our encounters.
Dancenorth's ongoing scholarly investigation into the relationship between mind and body, dance and science, is clearly articulated in every crevasse of this exciting double bill. It reveals the duality of the mind and body, offering a fascinating insight into the diverse ways interpret and embody our relationship to the world. 'If_Was_' thrillingly amplifies unique human responses to the laws and social values that govern us. This is a social science experiment to watch.
'If_Was_' plays The Substation, Melbourne 29 June – 2 July.