The First Nations programme at the Sunshine Coast's Horizon Festival includes a number of performances, art installations and cultural offerings throughout the region.
Mimburi Ninyangurra is among this offering. It's a series of sculptural installations (with Mimburi meaning 'source' and Ninyangurra meaning 'dreaming') translating to 'Continuous Flow Of Dreaming'.
The sculptures, originally from Bigambul artist Rick Roser and presented by contemporary artist/Jinibara man BJ Murphy, have been recreated in tribute to Jinibara country. The forms are made from fallen timber, vines and other ephemeral objects, decorated with things relating to and speaking from Jinibara country.
Ancient Aboriginal stories are revealed through the work.
Here, Horizon's First Nations Programming Curator Lydia Fairhall has a discussion with BJ Murphy about Mimburi Ninyangurra, a presentation which has required much research and many workshops to present.
When did you first know that your purpose involved making art?
I've always felt my was art was for a purpose. I started with sketching when I was ten years old. I remember going to a local NAIDOC day which were extremely small back then, and seeing a goanna image I was inspired to draw. Sadly, this was before I knew who I was, I mean, really was, and where I was from. All I knew was, I was different. Then many years later I picked up my first paintbrush and since 2009 I haven't really stopped.
How do you balance the need to honour and respect cultural protocol while experimenting with different styles of painting and contemporary materials?
Cultural protocols always comes first and foremost for me. It is important to protect cultural knowledge. It is easy to over-share in my art though it's a great tool to push boundaries socially and politically. I have started stripping my arts practice back to the 'old ways', through the use of traditional Jinibara ochres, though still using some modern tools to produce the desired piece. I feel my 'contemporary' style must be no more than an extension and 'complement' its traditional form.
You are a visual artist working across mediums, with cultural strengthening and revitalisation at the heart of your practice. What does a day in the life of an artist like yourself look like, when you are essentially working with the land and your primary source material and inspiration?
As a cultural man on country, I tend to a great deal of community business, but I try to prioritise caring for country. I am most at peace, walking country and making my art. It's more than just art to me. It's who I am. When I walk, paint, carve or sing I'm never alone and I'm content. Everything is either connected or interconnected. The land I walk, the animals I see, the landscape I observe, it comes together in my heart which then begins my vision. That becomes a picture or a story in my mind, and I bring it to life through my art.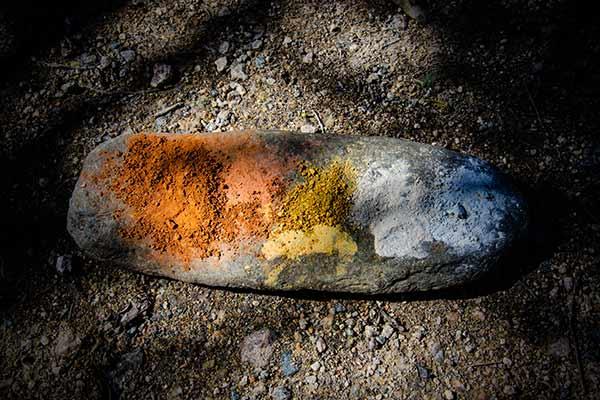 Your new work Mimburi Ninyangurra is being exhibited as part of this year's Horizon Festival. Can you tell us about the inspiration behind this work and what viewers can expect?
Mimburi Ninyangurra (meaning 'Continuous Flow Of Dreaming') is an extension of a previous work I did under the guidance of Rick Roser, a Bigambul man and the original creator of these sculptural forms. Referred to as 'Dreamtime Travellers', I see them as ancestors as I'm a firm believer we all go back to the earth when we enter the dreamtime. By utilising fallen trees, these ancestral spirit-shaped sculptures impact me in a way of gesture and connection. They are my elders past watching over me, watching over us. In this exhibition and with Rick Roser's blessing, I aim to extend on these sculptural forms by painting and creating them according to my (Jinibara) traditional cultural knowledge.
Mimburi Ninyangurra is on at Mary Cairncross Scenic Reserve (Sunshine Coast Horizon Festival) from 29 August-5 September.