Melissa Bubnic's reimagining of the Ibsen classic 'Hedda' makes its debut at the Queensland Theatre this month with Danielle Cormack leading an all-star cast that includes Jimi Bani, Jason Klarwein and Bridie Carter.
We talked to Director Paige Rattray to see what audiences can expect from this fresh take.
"I would say it's much more of a high-stakes world than the original, they're drug runners, and some pretty extreme circumstances that come into play. So everyone, all of these characters are really running on high alert," Paige tells.
The play sees a re-teaming of Director Paige, Playwright Melissa and star Danielle. "The three of us really enjoyed collaborating and working together and we were looking for a project we could work on together and I suggested looking at 'Hedda Gabler'."
Paige is full of praise for her lead actress saying of Danielle, "She is ferocious; she doesn't hold back, she will always look for a more interesting choice. Having someone in the lead role like that actually fires up the rest of the cast. I think Dan was the first actress I worked with who I think, she really stretched me as a director. She is an equal collaborator."
"For fans of the original they will be pleasantly surprised at how Melissa has managed to weave contemporary circumstance into the classic structure. I think it feels very radical because of the change in circumstance and the change in language but actually if you're a big 'Hedda' fan, people can really nerd out on this play. It's actually quite faithful in that regard. I think also particularly in the wake of the more recent Me Too Movement I think the way we look at female stories is really different and it was a big goal of ours to not present Hedda as a victim but actually someone who had a lot of agency and was living in this world that was very male-dominated in terms of power structures and that she could meet them and then beat them at their own game," Paige explains.
Further elaborating, she says, "From a very young age as a woman you're taught that you need to be careful, that you need to look after yourself, that bad things will happen to you if you walk down a street at night and you know as women we know that and it would be really lovely to see stories where women win and not have them presented as a victim. Because we've been told that since we can understand and personally I'm sick of that. I want to empower and inspire women and I don't want to reinforce that narrative that has been told for us for so long."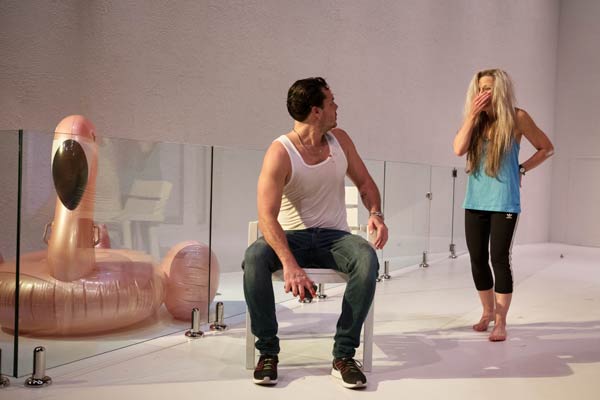 Having grown up in a really small town in Tasmania, it was a progression of events that led to Paige becoming a theatre director but she remembers distinctly working as an usher in Launceston while studying at university when Tom Holloway's 'Beyond the Neck' about the Port Arthur Massacre toured there.
"I was in the front row and turned around and looked at the audience and it was a super diverse audience and every single person was crying in the audience and they were all collectively grieving. And I guess in that moment I saw the power that theatre can have. I thought 'I'm going to be a director and I'm going to tell stories like that'."
'Hedda' promises to be another example of the kind of powerful theatre Paige continues to set out to make since that moment.
'Hedda' plays at Queensland Theatre until 8 December.