'Grease' comes to Newcastle this month boasting a mass ensemble cast of hundreds on stage, bringing the classic musical to life as an arena spectacular to be enjoyed by fans old and new.
Meghan O'Shea and Drew Weston star as the iconic high school couple Sandy Olsson and Danny Zuko. They're super excited to be bringing 'Grease - The Arena Experience' to Newcastle. "I performed in Newcastle I think it was back in 2010. I love the audiences, they're so warm and so receptive and it's just a joy to perform there," Meghan enthuses.
"It's definitely an action-packed production of 'Grease'. There's over 600 performers, it's the largest performance of 'Grease' staged ever, in the world, let alone Australia. For the young and old you'll definitely get something out of it," Drew adds.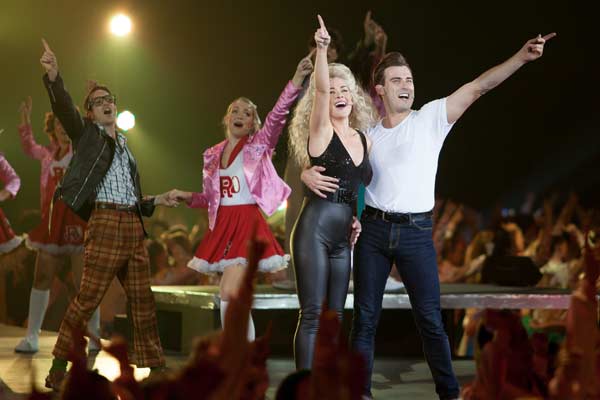 Meghan believes one of the strongest elements of the show is the mass ensemble drawn from locals in every town on the tour. "The thing that I love about the arena version is that the atmosphere in the room is absolutely electric. The energy that we get from the mass ensemble is totally contagious not just to us on the stage but it really reaches out to the audience as well. You honestly watch these young people on stage and their skill and professionalism and just their absolute love and joy for what they are doing is so infectious and I feel privileged to be able to share the stage with them to be honest," she explains.
Performing has been in the blood of the two talented theatre stars since they were of a similar young age. Meghan knew she wanted to pursue the arts as a living after doing a production of 'Les Miserables' playing a young Cosette at the age of ten. Drew's parents met doing theatre and strive to see most of the shows he performs in, leading to some great memories.
"After I graduated WAAPA (Western Australian Academy of Performing Arts) I was fortunate enough to be part of the original cast of 'Mary Poppins' which toured a couple of years ago and I understudied the role of Bert which was played by Matt Lee. I remember the first time I got to go on for that in Melbourne, 'cause I'm a Melbourne boy, and my parents came to see that, as well as maybe 30 or 40 other family and friends. And I just remember coming out of the stage door and just having a horde of people there and mum was crying and my nan was there and stuff and they were all very proud and I think that was a big moment," Drew says.
The pair have known each other for 10 years, having been in the same year at WAAPA and in a couple of productions. This has made it easier when preparing to play such a well-known couple.
"Drew is one of my closest friends and it's such a joy to be able to share the stage with him, he's obviously incredibly talented and it makes it so much easier when you have a friendship as well. You kind of already have a shorthand with the person, it makes the whole process of putting the show together really easy because we both work a similar way," Meghan explains and Drew concurs, noting "it definitely helps, we know how each other works but then it's also a bit dangerous because we might muck around a bit more because we're very relaxed and easy with each other. It's been great."
The two actors believe the themes of 'Grease' are just as timely as ever and have something for everyone.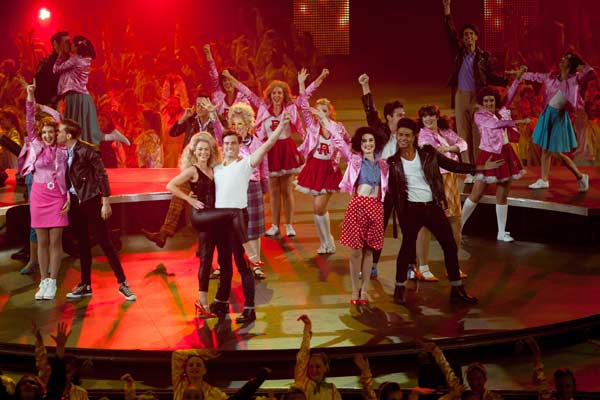 Drew, relaying his memories of it, says "I've always loved it. I think the whole storyline is quite timeless in the sense that it deals with peer pressure and a love story between two people who think they can't be together but really if they just love each other – just be together. It's not about trying to impress other people, [it is a] just trust your heart type of thing."
Meghan adds "I first discovered 'Grease' as the film and completely fell in love with the story. Every single young person, really anyone from every generation I think identifies with the story. Everyone has experienced growing up, friendship, young love, exploring all those things and I think 'Grease' does that really beautifully."
'Grease - The Arena Experience' plays at Newcastle Entertainment Centre, 14-16 July.