'Gone Girls' takes politics, dresses it in drag, douses it in theatre, and shines a hot, bright spotlight on it.
Created by award-winning actor and writer Patrick Livesey, 'Gone Girls', playing in Melbourne, is an ode to women in power, bipartisan wine nights and THAT speech from former Australian Prime Minister Julia Gillard. It teams Julia up with former politician Julie Bishop, as the pair (played by Patrick Livesey and the show's Co-Writer Annabel Larcombe) join forces to take down the patriarchy.
The show was conceived out of Patrick's respect for Julia Gillard and her achievements. Patrick had a deep desire to get in drag and play the role of Julia in honour of her many memorable moments as Prime Minister.
It's a fast-paced, quick-witted drag fantasy. Forget everything you ever thought you knew about Julie and Julia. . . It's about to be destroyed.
Here, Annabel Larcombe lists five reasons why seeing Julie Bishop and Julia Gillard on stage together is vital viewing.
One
There is no greater feeling than getting to shout "I WILL NOT BE LECTURED ABOUT SEXISM AND MISOGYNY BY THAT MAN" along with Julia Gillard. She's the new Kate Bush. Well, I guess Kate Bush is the new Kate Bush. But then it's Julia! Start warming up the pub choir.
Two
Picture this: Some man was being particularly irritating one day in question time, let's call him. . . Tony Rudd. Julie Bishop decides she need a minute and hides out in the women's bathroom. Julia Gillard has the same thought. Both women are at the sinks. They smile at each other. Maybe one of them winks. Frisson is in the air. That's 'Gone Girls'.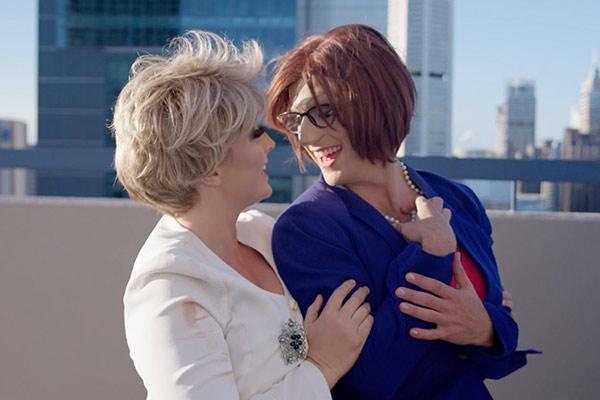 Three
Thelma and Louise. Hall and Oates. Ernst and Young. History has known many great pairings and to it we offer Bishop and Gillard. Two girls from Adelaide who would go on to be Head Girls at their respective schools; Julie private, Julia public; practice law, Julie corporate, Julia industrial; turn to politics, Julie Liberal, Julia Labor and walk into Parliament on the very same day in 1998; Julie Louboutins, Julia Target.
Four
WIGS.
Five
Despite both women having left politics many years ago, the story remains an important one – the media persecution that awaits women who try to express themselves and challenge the status quo. But to that we say, I WILL NOT!
'Gone Girls' plays Gasworks Arts Park (Melbourne) 28 July-6 August.