State Theatre Company South Australia celebrates its return to the stage (and the reopening of the newly rebuilt Her Majesty's Theatre) with a gripping reimagining of Patrick Hamilton's 1938 thriller 'Gaslight'.
Directed by Catherine Fitzgerald and set in a decaying room in a 19th century London home; 'Gaslight' is a dark, yet surprising mystery filled with lies, manipulation and secrets. Set across a single evening, 'Gaslight' is a powerful exploration of the effects of isolation, mental illness and domestic violence and is believed to be the inspiration for the terms 'gaslight' or 'gaslighting' – which describes a form of psychological abuse where a person seeks to make an individual or group question their own memory, sanity and perception through manipulation.
Returning to acting after a six-year break Ksenja Logos delivers a powerhouse performance as the play's leading lady Bella Manningham, a woman driven to the brink of insanity by the events unfolding in her home. Plagued with self-doubt and worn down by her husband Jack's belittling ways, Bella is a both a victim and a survivor and Ksenja captures the emotional complexity of her character beautifully; delivering an emotionally-charged performance which is impossible to fault.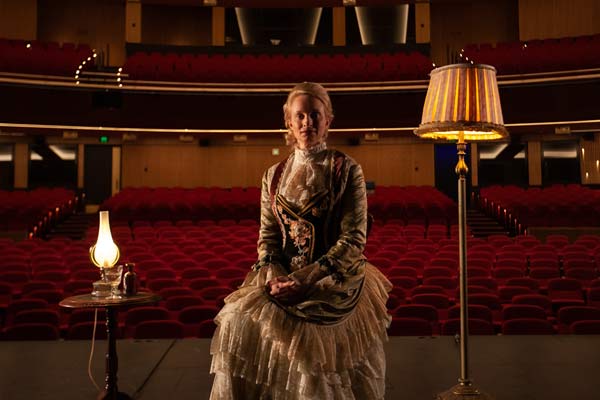 Nathan O'Keefe delivers a stellar performance as the truly reprehensible Jack Manningham, the quintessential patriarchal bully whose behaviour is the very definition of toxic masculinity. Cold, cruel and manipulative, Jack justifies his behaviour under a thinly-veiled guise of kindness and Nathan embraces his character's many flaws brilliantly, delivering a performance which literally left me seething with rage on more than one occasion.
Eileen Darley injects a hint of humour into the story with her thoroughly enjoyable performance as Inspector Rough – a man whose search for the truth becomes the catalyst for Bella's journey towards emotional healing. Her casting in a male role serves as director Catherine Fitzgerald's way of acknowledging that (up until recently) women have been the primary supporters of women in domestic violence situations. Ellen Freeman and Katherine Sortini round off the small but talented cast as the Manningham's servants Elizabeth and Nancy.
A small, but intricately-crafted stage transports the audience into a decaying 19th century London sitting room, complete with age-worn wall paper, oppressively heavy drapes and wall-mounted gas lamps – which provide most of the play's atmospheric lighting. Stunning period costumes complete the look and together the two perfectly capture the elegance and drab poverty of the era.
A well-crafted mystery with a very surprising twist.
'Gaslight' plays at Her Majesty's Theatre until 19 September.