Queensland artists Judy Watson, Robert Andrew, Courtney Coombs, Caitlin Franzmann, Itamar Freed and Courtney Scheu invite audiences to take a visual journey into the effects of climate change in the thought-provoking new exhibition, Final Call.
Held as one of the remaining programmed Horizon Festival events and set among the natural beauty of Maroochy Regional Bushland Botanic Garden in Tanawha on Kabi Kabi Country, Final Call is curated by the University of the Sunshine Coast (USC) Art Gallery Manager Megan Williams. She hopes the combination of stunning scenery and provocative works will encourage people to appreciate the beauty and history of the natural world and consider their own role in slowing climate change.
"The physical impacts are impossible to ignore," Megan says. "Climbing temperatures, extended droughts, severe storms, rising sea levels, ocean acidification and bushfires are just some of the symptoms of a changing environment."
"My intent [with Final Call] was to bring together a group of artists who work in open-ended ways to respond to these ideas."
Final Call begins with a piece by Courtney Coombs who invites viewers to overcome climate change helplessness by focusing on the little things they can control. Caitlin Franzmann encourages viewers to see the wonder and magic of the world at their feet; while a collaborative piece by Judy Watson, Aunty Helena Gulash and Tor Maclean explores the importance of utilising Australian Aboriginal knowledge systems in the fight against climate change. Itamar Freed and Courtney Scheu explore the impacts of human intervention in the landscape while Robert Andrew reminds viewers of the interconnectedness of all living things.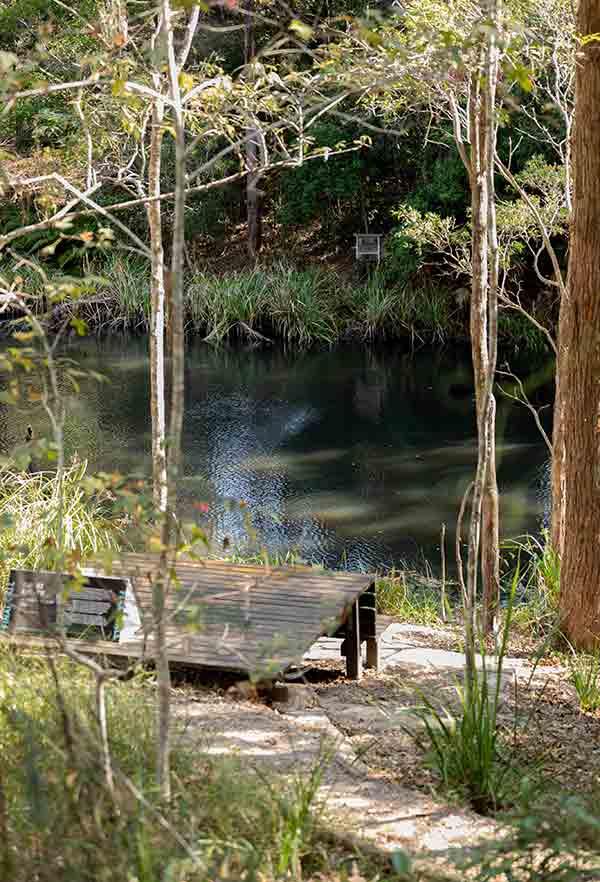 Creating works that capture the enormity of the climate crisis while also educating and entertaining audiences was no easy feat for the artists who spent time in The Botanic Gardens where they connected with Kabi Kabi Traditional Custodians to learn more about country. They also worked with climate change scientists and leaders who helped the artists translate science and data into contextual art.
Megan believes this approach to the artistic process was "elemental to informing the works and the underlying messages, resulting in an immersive audience experience that integrates art, science and technology into the surrounding natural environment".
For those unable to attend in person, Final Call is also available as a digital experience which allows audiences to digitally explore the gardens. Viewers can also delve deeper into the creative process behind the show and its artworks with interviews with the artists and 360-degree videos.
Final Call runs at Maroochy Regional Bushland Botanic Garden, Tanawha (Sunshine Coast) until 17 October.