This piece was published before the coronavirus (COVID-19) outbreak.

'Fawlty Towers'. A programme universally appreciated since it first aired in 1975, written and performed by a cast whose comedic deliveries would cement them as beloved characters across generations.
Drawing on many of the ideas of the television show, 'Faulty Towers The Dining Experience' is an immersive dinner and show that presents all-new scripts with that same-old classic 'Fawlty Towers' hilarity.
For actor Rob Langston, performing as Basil Fawlty – a world-renowned character immortalised by world-renowned actor John Cleese – certainly gives him some big shoes to fill. "I'm a similar height and build to John, so that makes life a bit easier," Rob jokes.
Rob will wrap up playing the character in Australia in July, before heading to the UK to continue over there.
"It's great – it's obviously a massive responsibility to play a character so well-loved, [with] people growing up around the world watching 'Fawlty Towers', so it's a wonderful experience as an actor to have this experience.
"There's no hard sell – we go into it and get good will and happiness from people."
Rob's delivery of the Basil Fawlty character is, he says, a combination of his channelling John Cleese's stylings and of his own experiences as an actor. "Obviously it's important to get those real ideas that John had when he wrote it and show those in respect of his idiosyncrasies and mannerisms so people feel they're interacting with Basil Fawlty. But also, as an actor you have to bring your own elements into it as well to really live and feel it and to be in that character."
"It's so interactive – you're never quite sure what's going to happen in any show, you have to be ready for anything!"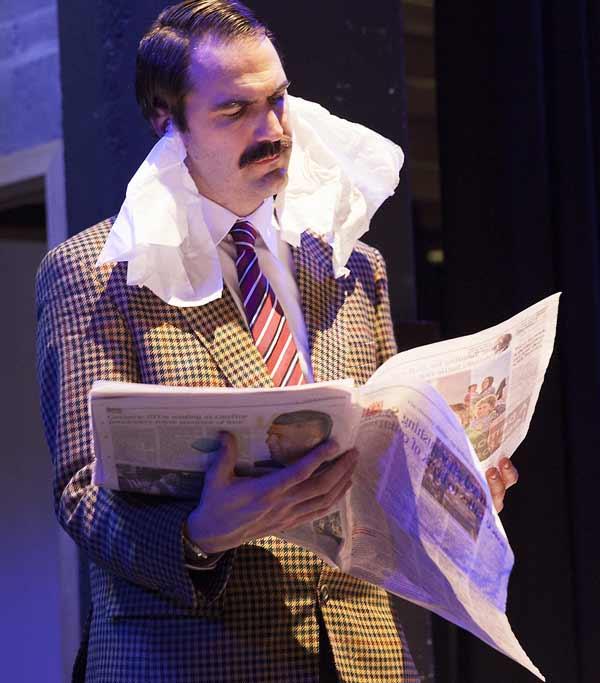 Image © Ron Rutten
From entirely original scripts (influenced, of course, by the original series), this dining experience provides just as universal an experience as the television programme, received with an immense amount of open-mindedness, Rob says, even if he's never sure what to expect. "It's a lot of people coming and they're as much a part of the show as we are, in many ways. Once the show starts and they see what happens they buy into it for sure."
"So much is familiar from the show, which we brush upon. There are elements that are borrowed, the script itself is totally new, but people welcome it, they love the fact they don't know what to expect!"
People going along to 'Faulty Towers The Dining Experience' can, and will, in Rob's words, expect anything and everything. "It's the equivalent of actually dining in the 'Fawlty Towers' restaurant. It's in and around you as soon as you walk in there. You are part of an episode, and that's a whole new experience of seeing it. Even people who've seen the show more than once, different elements happen during the show and it's a massive improvised area."
"You can have a one-on-one with characters like Basil, giving him a hard time, or Manuel and being served by him, or chatting to Sybil, as well as seeing the storyline throughout the show.
"'Faulty Towers The Dining Experience' is very inclusive. You are part of the show, and I think it's something to really enjoy, and it's for everybody."
'Faulty Towers The Dining Experience' is currently on hold due to COVID-19.