'Cock' is an intense examination of modern relationships and modern sexuality, and all the complications these things can bring.
'Cock' is a bare, stark production devoid of props or set design, putting the spotlight on the actors alone to make the story work. Fortunately, Julian Curtis, Derek Draper, Ashlee Lollback and Paddy Farrelly do an outstanding job at making their characters shine.
Centring around John, a man in a serious, committed same-sex relationship who meets a woman who turns his world upside down, 'Cock' asks probing questions as to who we are, and whether who we are is in part dictated by the gender of the person we're with. In this age of increasing choices for labels, but increasing desire to live without them, 'Cock' raises some very interesting questions.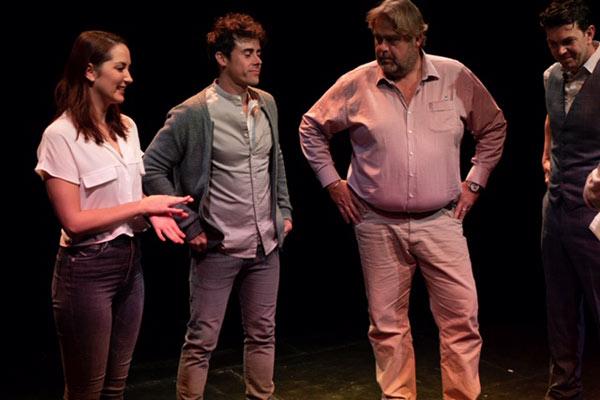 However, the script is both claustrophobic and perhaps a little dated in terms of society's notions of sexuality and family. One reason John might leave his partner for a woman is his desire to have a family, ignoring the fact that people in same-sex relationships have families all the time. Some parts stretched believability too. The whole premise of a dinner party for the lovers to hash things out, or the fact that no one chooses to leave John – who seems to have many flaws – paints unflattering portraits of all involved. It seemed to be more fitting to a reality TV set, or a high school drama. The choice to have UK accents for Brisbane actors was interesting too.
The credibility of the actors and their commitment to their performance shone through, however. The acting really was outstanding. It seems like each of the performers has many new projects in the works, and it is very clear to see why they all seem to have such bright careers in front of them.