From the novel of the same name written by famed Australian author Tim Winton, 'Cloudstreet' comes forth from Black Swan State Theatre Company Of WA and Malthouse Theatre, as a brand-new theatrical rendition at His Majesty's Theatre.
Two families, the Lambs and the Pickles, share a house at number one Cloud Street, a place haunted by a dark history – what unfolds in the play is a story of heart and hardship.
"I'm a Lamb," one of the show's actors Arielle Gray says. "I play Elaine. A bit of a headstrong girl, insists she's engaged for ten years – a very sweet girl."
A Perth native, Arielle describes Tim Winton's original novel as a quintessential work – as is Winton. "He's beloved in Perth," she says. "There's something really familiar and beautiful about his writing. He hits you in a way that other books don't, and his language captures the landscape beautifully."
Playing six other roles as well as her central character of Elaine Lamb, Arielle was drawn to the production because she believes 'Cloudstreet' to be such a classic Australian work. "It's one of those shows that belongs in Australia when you put it on. 'Cloudstreet' is just so here, I think it's really special."
Image © Pia Johnson
To prepare for her roles, Arielle of course looked to the original work to complement her performance and to better understand this current interpretation. "It's a great book, a beautiful mixture of poetic language and then just like really gross bum jokes!
"It's a great mix of styles, and all the characters are so lovable."
The similarities and differences between novel and stage play are vast, and in this rendition of the play, have been manipulated by Director Matthew Lutton. "They worked on the script to work with a modern perspective, especially to bring out the Indigenous presence in the history of the land and the house – far more present in this production than the book and previous productions," Arielle explains. "It complements the balance of the show. Now you know more about the historical context of the atmosphere and presence."
"Between the book and the play, obviously theatre is a live and visual medium and a book is mostly set in your imagination, so I think the visual presence of the house exists in the play, and I think, you have so long in a book to describes themes, characters and places, the play chooses the moments and characters that appear that don't in the book."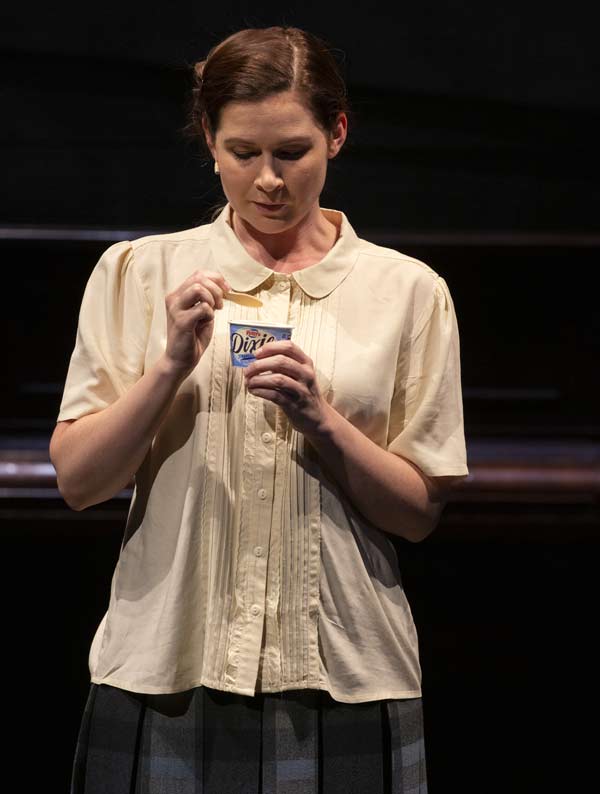 Image © Pia Johnson
You might describe 'Cloudstreet' as a true-blue epic. "It's beautiful to follow two such different families," Arielle says. "It's a glimpse at two families over a certain period of time in Perth, and the Indigenous presence is giving context to the history of the place and the influence that has on the family feeling [a] belonging, or not belonging.
"I think it's much more present in this version, which I think is important."
Arielle describes a presence in 'Cloudstreet', and a timelessness in the play and the book that hold up in today's society. "At the end it's about place, belonging, family and connection. You go on a huge journey with these characters – 20 years of their life – you see them grow up, fall in love, get heartbroken, have babies, go through a huge range of experiences and emotions in their life; that's why it's an epic, I think."
"There is a real connection between the audience and the characters, and the characters with each other. It's a beautiful show to perform in because there is just so much warmth."
'Cloudstreet' plays His Majesty's Theatre 21 February-15 March.