Award-winning composer, mezzo soprano, sound artist and academic Dr Eve Klein invites audiences to 'hear' Brisbane city as part of this year's Curiocity event, presented by World Science Festival Brisbane.
Armed with a PhD in Music And Sound (as well as having some of her previous works featured at events around the country), Dr Klein (Textile Audio) has collaborated with QMF to create something that inspires exploration and interaction with place.
'City Symphony' responds to each user's location, orientation, and even time of day. . . Creating a personal soundtrack. The real-time information is combined with the environmental data to generate a unique listening experience for each person.
Here, Eve Klein pens an open letter with more information ahead of the 'City Symphony' event.
"Can you play your city? What does it sound like?
Imagine walking through a mass choir singing a prayer to the river, moving up to and through each singer's voice. Stepping onto a rock concert stage next to the bass player, with the crowd's roar surrounding you. Taking a seat at a pot-luck dinner and hearing the clinking of cutlery and stories of food cooked by new Australians sitting across from you. Or listening to the drones and whirs of a spaceship looking back to planet earth from space after the impact of climate change.
In 'City Symphony', we've created a hidden music and story world overlaying Brisbane CBD. With your phone and your feet, we're inviting you to walk the city and discover Brisbane's stories, sounds and songs.
My name is Eve Klein; I'm the lead composer for Textile Audio, a studio that makes interactive and spatial audio. We craft art by shaping sound, music and interactive technologies in playful ways. We like to say we 'hang sound in space'. Our process combines community engagement with interactive world-building. We utilise sound to create deep connections to places via listening.
'City Symphony' is made using video game creation techniques and technologies. We take real-time information from your mobile phone and combine it with environmental data to generate unique music and story experiences for each listener. Where you walk, how you move, and when reveals and remixes your experience.
In 'City Symphony', we treat Brisbane city like an open-world game space to encourage you to meet someone different and feel more connected to this place we all share. Together with QMF we've worked with hundreds of Brisbane community members, writers, actors and musicians who you'll meet and hear along the way. You can literally step inside and remix the music of artists like Kate Miller-Heidke and The Ancient Bloods. You can walk alongside a refugee, hear about meeting a first love, and share in secrets people tell Maiwar, the Brisbane River. Science, environment and history interweave with stories throughout 'City Symphony'. The communities we worked with were thinking deeply about how climate change will impact the future of Brisbane, reshaping the river, our homes, and our way of life. Hearing people's vision for this city has changed how I see and walk through the space, and I think it will change you too.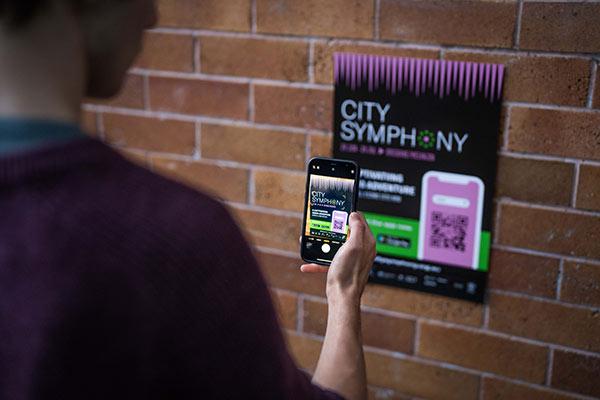 As far as we know, 'City Symphony' is the first artwork globally to combine AR-based game music creation with community placemaking at the scale of a city. We've had to innovate and handcraft the technology underlying the experience from scratch. But the point of this is not to make shiny new technology for its own sake. At Textile Audio, we are both artists and technologists, and we work at the edge of what's possible to reach something new in terms of feeling and ideas. Art can break down barriers between us and grow empathy across difference. Emerging technologies provide new lenses on our surroundings. Combined, we can travel to radical new worlds.
Come play with us and change the way you see your city."
'City Symphony' is on as part of Curiocity Brisbane from 24 June to 10 July at City Botanic Gardens, Goodwill Bridge, Queens Gardens and Queen Street Mall.