Cirque du Soleil's latest show will have you feeling kurioser and kurioser, as they bring to the stage more talent, colours, wonder, and breathtaking moments than ever before.
The Montreal-based troupe's 35th production, 'KURIOS – Cabinet Of Curiosities', brings to life the wild imagination of writer and director, Michel Laprise, as the audience is teleported to a late 19th-century, Thomas-Edison-meets-Jules-Verne, retro future realm. In a place where anything is possible, the show unfolds as the scientist (The Seeker) guides the audience through his steampunk world, accompanied by an energetic gypsy jazz and electro swing soundtrack. Comprised of an international cast of 47 artists from 17 countries, Cirque du Soleil takes their latest production to literal new levels.
Featuring acts such as acrobatics, contortion, aerial bicycles, puppeteering, and even an invisible circus, and starring otherworldly characters made up of world-class gymnasts, yo-yo-wizards, jugglers, and musicians, 'Cabinet Of Curiosities' is sure to leave audiences awe-struck in the best of ways. While the show is in a classic Big Top setting, it's a circus like you've never seen it before.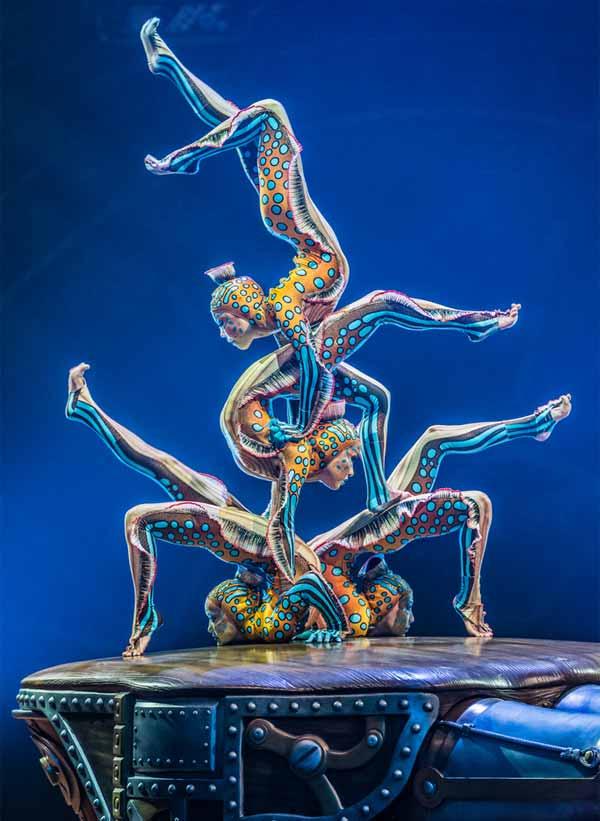 Image - Martin Girard / shootstudio.ca Costumes: Philippe Guillotel © 2014 Cirque du Soleil
For the first time, Cirque offers a welcoming act that encompasses the audience from the very moment they walk into the venue. Featuring three artists climbing the big top and greeting guests from above, you don't have to wait until the opening act to feel teleported to the futuristic world. The entertainment doesn't stop there either. With characters scurrying across the stage, warming up and engaging with guests before the show as they enter the big top, it feels like another realm before the lights dim for the first act. Once it does, however, you'll be afraid to blink, with fear that you'll miss something.
In true Cirque style, there is so much going on that you often don't know where to look, making for a truly mesmerising performance from beginning to end. And while you've seen contortionists, trapeze artists, gymnasts and balancing acts before, it's nothing like this, as the troupe perform truly unusual and highly challenging renditions of classic favourites. You'll be seeing double with the Russian Cradle Duo, the world will be turned upside-down at a Mad Hatter-esque tea party, and even notice the tiniest of details as Rima Hadchiti seemingly runs the show as she waltzes across the stage between acts. Guaranteed to leave you laughing, gasping and sitting with anticipation on the edge of your seat, this truly is Cirque du Soleil's biggest showcase yet.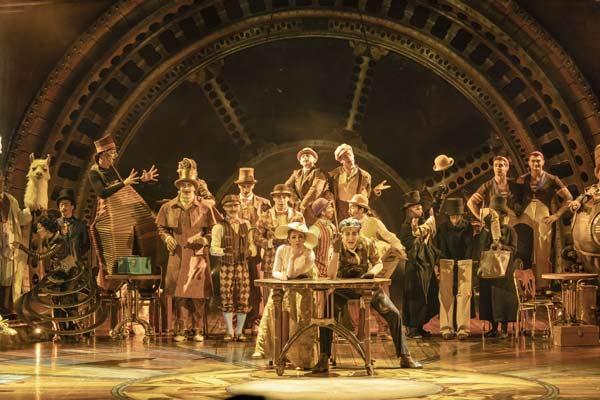 Image - D-CORD <Keiju Takenaka> Costumes: Philippe Guillotel © 2018 Cirque du Soleil
In a bright collage of colour and sparkle, the costumes each performer wears leaves every eye dazzled at the sheer creativity and attention to detail that each required. From the metallic round belly on Mr Microcosmos, to the shimmers that cascaded down the side of the contortionist eels, the more than one hundred costumes add to the seamlessness of the performance, and contribute to the audiences' inability to look away.
And while the acts are truly unlike anything you've seen, what makes the show as spectacular as it is, is the live band that is seen bopping, hopping, and swaying behind the stage, on platforms above acts, through the audience, and alongside jugglers, acrobats and lion tamers. Renditions of well-known 19th-century French jazz tunes evidently wind their way through each act, building anticipation, providing dramatic pauses where appropriate, and leaving the audience unconsciously toe-tapping and head-bopping throughout the show.
'Cabinet Of Curiosities' is much less a show, not quite a performance, but rather an entire experience. With jaw-dropping acts that are executed perfectly and synchronised accurately with a live band who doo-wop their way through the night, all across a stage that spills out into the audience and is accompanied by 426 props (more than any other Cirque Du Soleil performance ever before) that seamlessly glide up, across, and around the Big Top, 'Cabinet Of Curiosities' is a production simply not-to-be-missed.
Kurios Tour Dates
10 January-23 February – Northshore Hamilton (Brisbane)12 March-26 April – Flemington Racecourse (Melbourne)29 May-7 June – Adelaide Showground15 July-2 August – Claremont Showground (Perth)