Kim Bowers, aka 'Busty Beatz' is fast becoming renowned for her abilities as a musical director, composer, producer and remixer.
Having worked in the music industry with the likes of Powderfinger, Ben Lee and Bone Thugs N Harmony, Bowers now focuses on the theatrical side of things. Working with the Black Honey Company, Bowers has several successful projects under her belt including 'Who's That Chik?', 'Australian Booty' and even a children's hip hop stage show 'MC Platypus & Queen Koala's Hip Hop Jamboree'.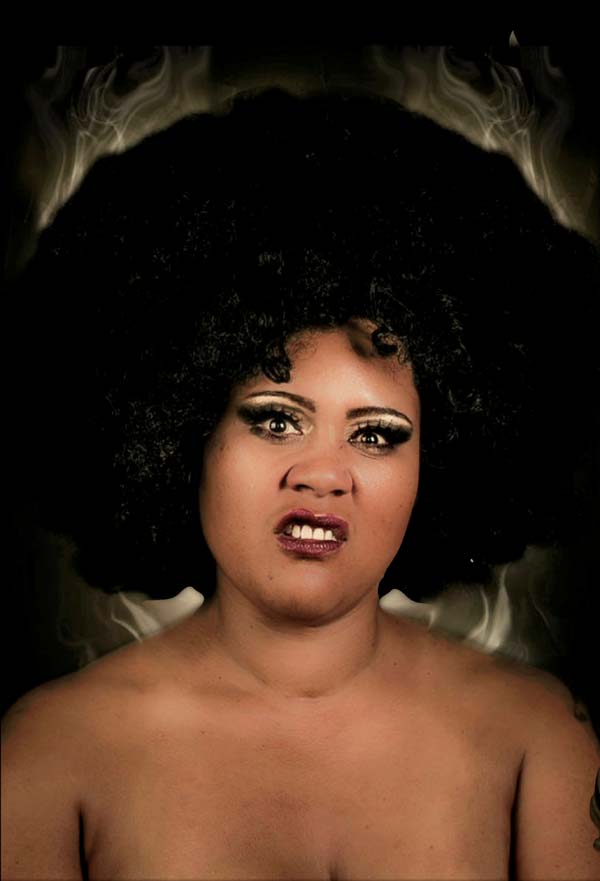 Her newest show – 'Hot Brown Honey' has received significant praise from only a small number of showings. The show smashes social and racial stereotypes and delves deep into sexuality, gender and identity. Incorporating circus, dance, poetry, striptease and comedy with a generous helping of of hip hop – 'Hot Brown Honey' is traditional burlesque reinvented.
When did you first start making music and working in the arts?
My first band was kind of an indie punk rock band from the early '90s. We started back in school so we were pretty young. We were together for nearly ten years so we got to support a lot of people like Powderfinger, Frenzal Rhomb and Silver Chair – but that's going back a little bit far now.
Making hip hop - writing rap and making beats. How'd you get into that after being in bands?
I was making hip hop alongside playing in bands anyways – it was just a natural progression for me over into beat making and composition. It was pretty early gear in those days what we were using like some really old school samplers and stuff like that. It was an interesting time because bands like the Resin Dogs were starting to get together and people like Regurgitator were starting to play with technology a bit. Plus my background is South African so hip hop has always been a huge part of my up-bringing.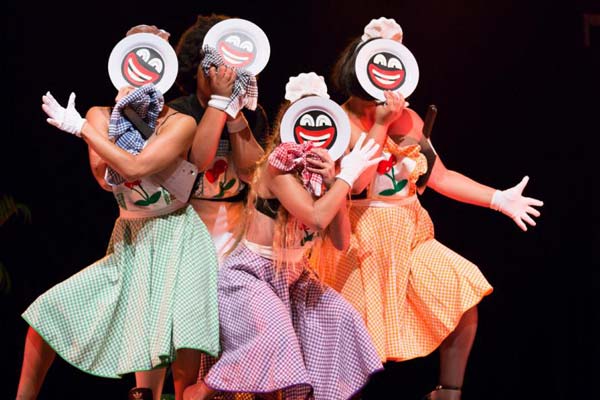 How did you end up working on theatre and stage productions after focusing on bands and hip hop for the most part? When did you make the switch?
I almost just fell it to by making some music for theatre shows. After that my little sister – Candy B, she started a little hip hop cross-over comedy called Sista She. She asked me to make some beats for her crew and slowly they started to put me into the shows. So slowly I got into this crazy cross-over world of music and theatre.
You've worked with some pretty prestigious theatre groups - Belvoir St, Sydney Theatre Company, Bell Shakespeare, Queensland Theatre Company and La Boite. What have been some of your favourite productions to be involved with?
I got to work on a show called 'The Mountain Top' at the beginning of last year, which is basically a story about the last day of Martin Luther King's life. I got to create a composition A/V piece for the last moment of the play where Martin Luther King can see into the future. It was basically a spoken word piece over these amazing graphics, which went through from the moment he died in 1969, all the way through to now. It looked at every single movement that came out of the civil rights movement from black power to '80s hip hop, and the political part of that world right through to what's happening now.
There is a bit of mix and match going on – with 'Hot Brown Honey' involving a bit of hip hop politics and no doubt a hip hop soundtrack too. Have you always tried to incorporate a bit of hip hop in each of your projects?
Yeah – that's pretty much my culture. But I'll sample anything from punk rock to beat box. I've got a huge musical vocabulary and I really enjoy all kinds of music. But always it comes down to the beat, man. I'm African. The beat needs to come in at some point!
You've done a children's hip hop show – 'MC Platypus And Queen Koala's Hip Hop Jamboree'. Where did the idea for that come from? Have you got kids yourself?
Yeah, I've got a daughter. I guess we wanted to do something different. It's interesting in this country with hip hop – there's some crazy sort of stuff going on in terms of the lack of diversity in Australian hip hop. I thought to myself how is this possible? Hip hop should be the voice of the marginalised – not the voice of some white guys talking about having too many beers. So this is more back to the roots. The kids are so down for it. It's so, so, cute, they just love it. They love the beat. We wanted something to help educate the kids, and of course it's a part of hip hop culture to pass down knowledge and education.
You've got a show coming up soon – 'Hot Brown Honey'. Can you give us a run-down of what the show is about?
Basically I've been working with Lisa Fa'alafi. She's the co-director of Polytoxic Dance Theatre Company out of Brisbane. The concept came together because we noticed the lack of women of colour on the television on film and in hip hop – just across the board in Australia. We know so many talented people so we put together a whole heap of content that just made us laugh. We had a look into the whole idea of burlesque – which traditionally is to make fun of or satire political and social situations. We thought there was so much to laugh about in this country – and that's how we got started with 'Hot Brown Honey'.
There are some interesting characters in 'Hot Brown Honey' such as an indigenous drag queen and a single mother/ DJ. How did you conceive them? Are these characters inspired by real life people and experiences?
They're based on us. I'm a DJ and I still actually have to take my daughter to some gigs. Everything is based on our experiences as living as women of colour in Australia – not only in daily life but in the arts too.
The show has already been performed at Woodford Folk Festival, Brisbane Festival, Light House: Darwin Festival and Red Bennies. Where does the up and coming show at the Judith Wright Centre rank with you as an Australian performing artist?
It's gonna be great to be at the Judy. At the moment we're doing the Adelaide Fringe with a great team of really exciting and talented performers, but at the Judy it's just going to be an extravaganza. It's all of our Brisbane people that we want on board to showcase, plus there's also a really deep storyline going through the whole show. And musically there's a whole heap of musical references that people should know. It's going to be great to perform in Brisbane again, because we haven't done that for such a long time. We're not sure how soon we can come back because there's now a bit of interest developing in us overseas too.
If you weren't working in theatre, what do you think you'd be doing? Would you go back playing bands or focusing on making beats?
I always focus on making beats! It doesn't really stop. But I'd like to get into doing a few more kids discos. I've done a couple at the school and they just go off! I've never had any other crowd get up and jump around like dogs when I play 'Who Let The Dogs Out'.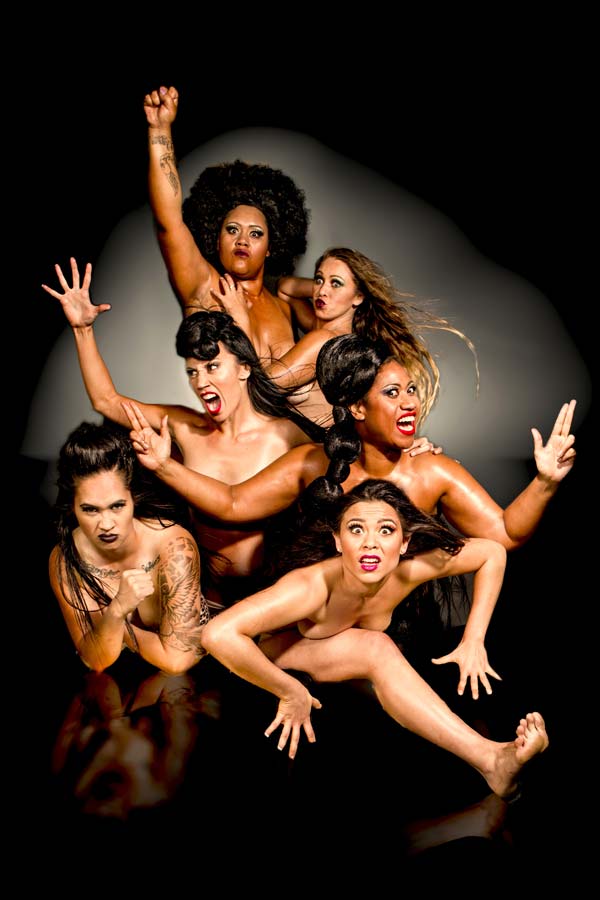 What advice can you give to other aspiring young stage actors? Do you do much work with the younger generation?
The most important thing is to just keep going. It doesn't really matter what people think when you're making the work. You just need to keep pushing through and keep making it. It can be hard though; sometimes there are no opportunities – especially for people of colour. It just isn't there in Australia. Overall there's not much happening in terms of diversity – but just keep it happening. Otherwise you'll go crazy. Just keep making your shit!
'Hot Brown Honey' plays the Adelaide Fringe Festival until 15 March before heading to the Judith Wright Centre, 19-28 March.