Brisbane Writers Festival (BWF) has closed its 59th chapter on a high note, with a 2021 event engaging thousands of Queenslanders with a hybrid programme of live and virtual events.
More than 100 writers, thinkers, artists and opinion-makers were on board to make themselves heard and seen throughout the festival, which laid a strong foundation for the upcoming milestone 60th year in 2022.
The event's already on track to a huge 60th celebration. Here, we have a chat to BWF CEO Sarah Runcie as she reflects on the 2021 event and looks to the future.
So. . . How did the 2021 Brisbane Writers Festival go?!
Pretty well all things considered. We had a really challenging year last year and this year we knew that we were entering a difficult market with a lot of uncertainty. And with fewer resources to manage the curve balls. With a new date in May, new elements to the festival, and without a massive marketing budget, we knew that we were going to be doing it a bit tough this year with tickets sales. Having said that, we still managed to have a number of sold-out events. Lots of lovely feedback. And actually have some fun. So, tick.
What do you think is the main reason this festival continues (after more than 50 years) to be one so many love?
BWF is a unique festival. This is the oldest continuous writers festival in the country. And it came out of the writing community in Queensland. I think that that is part of the strength of the festival, it has a tradition of focusing on local authors, artists and poets. And in particular, a long tradition of First Nations programming with depth and respect. Not a lot of writers festivals can match BWF for that. But, again, I think that it has to do with a vibrant local literary community.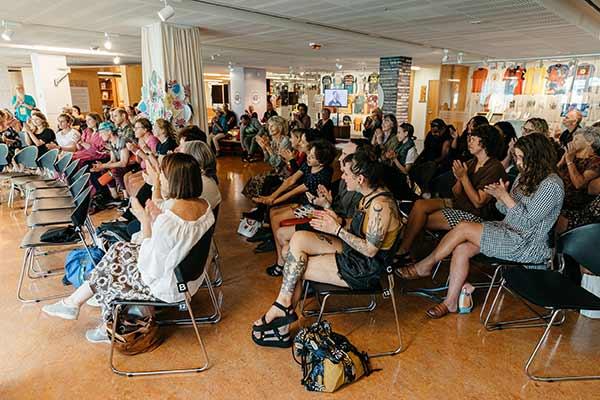 What was the biggest highlight of the 2021 event for you?
That is like asking who is your favourite child! There were many events that were highlights for me. But, as you have asked, I think holding the Marion Taylor address in the Queensland Art Gallery Watermall, under the spectacular Ai Wei Wei sculpture with the wonderful Robert Dessaix was an appropriate celebration of BWF being back in. The high tea with Kate Morton was just beautiful. I even got to sit down and enjoy a moment or two with my daughter! I think Ellen Van Neerven's First Word address was just one of the most beautiful speeches of the festival. And as a new part of the festival, I felt so thrilled to have Ellen launch the festival. Other highlights? So many wonderful authors all together. I had occasion to go to the Green Room a couple of times. I felt starstruck every time.
It's the first time BWF has been a hybrid live and virtual event. What was the biggest challenge in doing this?
I think the biggest challenge was the crush of work that an extensive online festival entails before you launch. And, as a festival, we were not equipped, literally, to do all the editing and production with our ancient PCs. Fortunately I had a tech savvy programme manager with the right equipment at home. But it was a lot of work. But there are many advantages as well with the online medium. Intimate craft discussions, like our author/editor series, have been commercially successful for us. And those discussions work better, I think, online, than in an auditorium with 100 or so people. I think the experience of this festival has taught me about the proper place for both online and onsite events.
Do you think it was pulled off successfully?
Yes, mostly. I think having online content feed into or complement onsite events works well. And online also brings in audiences that we would not have had otherwise. Regional or interstate audiences for instance.
Post-COVID, is there possibilities of keeping the virtual element in, or do you think it was just a circumstantial one-off?
I think BWF will be a hybrid festival from here on in. This year we had over 50 per cent of our festival online. Next it will be less but we will be using the online to bring, virtually anyway, overseas authors that are not going to be able to travel next year. Having said that, I am pinning my hopes on there being a travel bubbles between Australia and New Zealand/Aotearoa.
Turning the focus to 2022, BWF will celebrate a huge 60 years. What can you tell us this early in the piece about what's planned for that?!
So many things. We will be launching a new part of the festival in which we annually focus on a particular country or region of focus within the Asia/Pacific region. Next year we will be focusing on the absolutely beautiful writers, poets and spoken word artists of Aotearoa and Pasifika. There is so much divine work from that part of the world that we really don't have exposure to in Australia despite our proximity. This will be a unique opportunity to build a very special programme. There will be more live and in-person events next year that will be in non-traditional formats and venues and I am looking forward to presenting a bigger, more adventurous festival.
Someone is keen to attend BWF but just needs one last 'push' to buy tickets. To really sell it to them, you say. . .
The festival is not over! Our extensive online programme is a rich and varied program that is bound to have something of interest. No matter what your interest. And while you're at it, become a Festival Friend!
As CEO, what draws you personally to Brisbane Writers Festival most?
Diversity. Brisbane is a diverse city. Being able to present a festival that speaks to the unique cultural ecology of the city is what drives me.
Brisbane Writers Festival 2021 took place 7-9 May.