Over six huge days in May, Brisbane Writers Festival (BWF) will take over everything from suburban restaurants to Valley nightclubs with stories from across Australia and the Pacific.
The 60th anniversary of the festival will exemplify BWF's 'Where Our Stories Live' vision. . . Combining a range of fan favourite formats and programmes with new, exciting initiatives. It's set to be an event that once again connects diverse communities, through the power of words and writing.
Brisbane Writers Festival has solidified itself as part of Queensland's cultural offering and continues to bring stories to life.
One of this year's guest curators is writer and broadcaster Benjamin Law who, along with helping to shape and prepare the offering for attendees in 2022, will also partake in three of the programme's events.
We chat with Benjamin ahead of the huge 60th anniversary of Brisbane Writers Festival.
You're a guest curator at this year's Brisbane Writers Festival! Tell us about what your role entails.
I'm one of several guest curators – alongside the wonderful Ellen van Neerven, Anne-Marie Te Whiu, Michaela Kalowski and Rhianna Patrick – who've helped guide what the Brisbane Writers Festival programme looks like this year. I'm stoked to have helped curate over 20 sessions at Brisbane Writers Festival featuring some of Australia's leading thinkers, provocateurs and storytellers in deep conversation and surprising each other – and us – in the process. It's an all-star line-up, and I'm having a nosebleed just thinking about it.
What are you looking forward to about being a part of the proceedings in this way?
One thing I'm obsessed with right now is learning to sit in difficult conversations and uncomfortable truths. F. Scott Fitzgerald once observed, "The test of a first-rate intelligence is the ability to hold two opposing ideas in mind at the same time and still retain the ability to function". Yet conversations about so many important things – the climate crisis; geopolitics; faith; consent; gender; COVID – have become so polarised and lacking in nuance lately, that we struggle to forge common ground or any way forward. So I'm looking forward to hearing experts in their respective fields equip, empower and educate us all. Let's learn to be comfortable admitting not everything. After all, it's the only way we learn.
What makes Brisbane Writers Festival special, to you?
I lived in Brisbane for 13 years and it's where most of my family live now. It's my spiritual hometown, and produces some of the best writers in Australia with an incredibly tight-knit and supportive community. The Brisbane Writers Festival captures all of that.
How about this year in particular – what can you tell us about the festival in general?
As we transition to living with COVID and recover from fires and floods, we're in a period of needing to take stock. The festival's a chance to pause to have most important conversations we need to be having right now: about the climate crisis; geopolitics; faith; consent; gender; COVID; local politics and more.
And why do you think writers festivals in general are important for the community to attend?
Across the country, there are writers festivals in the smallest towns to the biggest cities. We know we're a nation of sportslovers, but we're actually a voracious nation of readers too. 95 per cent of Australians enjoy reading books for pleasure or interest and nearly 70 per cent of us would like to read more. Writers festivals are a great opportunity to connect with your favourite authors, discover new ones and connect with ideas, stories and each other.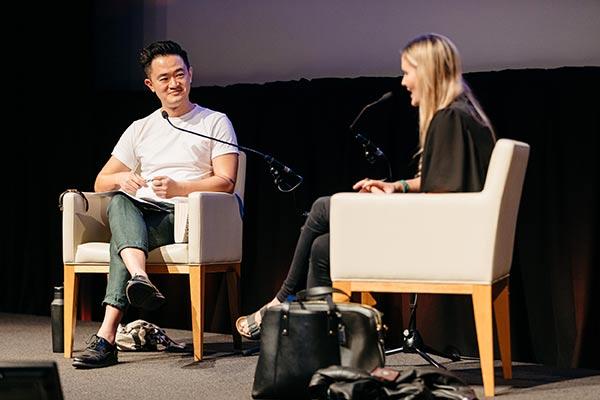 You're also appearing in three events this year. Firstly, 'The Family Law', on the back of your memoir/TV series. What can attendees expect from this?
Oh look, it's just basically a chance to eat a lot and talk about my memoir – or just basically ask me things I'd never be able to say on the record and be indiscreet over Chinese food. It's gonna be great.
And what's set to go down during 'Literary Death Match'?!
Your guess is as good as mine. Officially, it sees four daring writers read a piece of their best and most entertaining work for judgement – including Tobias Madden, Lee McGowan, Nevo Zisin and Martine Kropkowski – with Adrian Todd Zuniga as the charismatic host. It'll be boozy. It'll be nuts. And there are rumours there'll be bloodshed.
Lastly, tell us a bit about 'New Australian Masculinity'.
In some ways, Nevo Zisin (a Jewish trans nonbinary advocate), Lech Blaine (a true blue Queenslander and son of a publican) and Omar Sakr (a bisexual Muslim novelist and award-winning poet) have little in common. But between them, they have so much to offer in helping blow up our very narrow views of what constitutes masculinity in Australia. As an Asian-Australian gay dude, I'm looking forward to it.
As a guest curator, what is your main hope for how attendees respond to the offering of BWF in 2022?
I hope people come out feeling invigorated, provoked, nourished and equipped. And walk away with a stack of books they'd otherwise not have encountered.
Brisbane Writers Festival takes place from 3-8 May.