Cabaret is still relevant and dangerous in Bradley McCaw's one-man show – 'The Complete Unauthorised Biography Of Cabaret'.
While audiences around the world are still enthralled by the razzle and dazzle of a cabaret show, very little know of its history. Bradley McCaw wants to change that. With his one-man show 'The Complete Unauthorised Biography Of Cabaret', Bradley takes his audience on a musical journey, starting in the Black Cat salon, Paris, 1881, moving on to Berlin in the 1920s and then to the classic Hollywood age.
After a sold-out show in New York, Bradley can't wait to bring 'The Complete Unauthorised Biography Of Cabaret' back to Australia. "I'm really looking forward to bringing the show back to Brisbane especially, because it hasn't really had a full sort of celebration here". When the show hits the Brisbane Powerhouse next month, audiences can expect performances of well know classics in addition some of Bradley's original numbers.
Writing and composing 'The Complete Unauthorised Biography Of Cabaret' as well as performing it, Bradley recalls that compressing the one hundred year history of cabaret into one show was not an easy task. "[It was challenging] because it has to be entertaining and it has to have a point and all the normal sort of story structure kind of stuff. But at the same time, it has to be a true representation."
The idea for his show came about with his entry into the 2012 international cabaret showcase competition. "All the songs I had were originals and were all of varying styles. I sort of had to come up with an idea that would link them all together. The theme that ended up running through them was that they were all cabaret. I got them all to describe the history of cabaret and that was where it all began. Little did I know… that cabaret has an interesting history." Bradley ending up winning the 2012 international cabaret showcase for his performance.
Enthusiastic to find out more about the history for a larger show, Bradley thoroughly researched cabaret and found "forgotten little gems", often involving well-known artists. "There was… Joseph Pujol… he would go on stage and fart songs and he would do impressions. It was just farting. He would have them in stitches and he would have nurses on hand just in case people passed out!"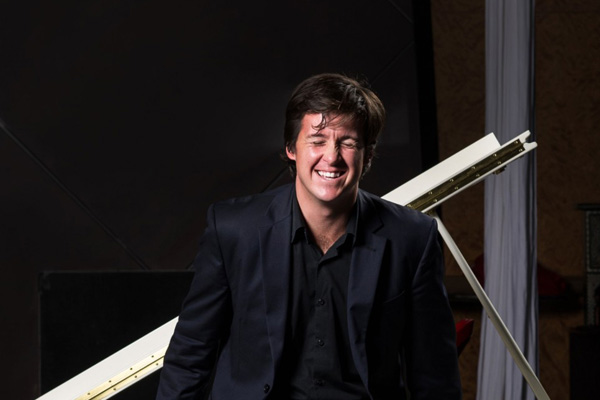 Leading up to his production, Bradley has had an incredible journey as a performer, writing and composer. He fondly recalls that his journey began listening to Billy Joel. "I heard Billy Joel and a song of his 'Just the Way You Are' and I thought wow, that's possibly the most beautiful thing I've ever heard. I want to make something like that, so I started making [music]." Most significantly, it was his experience being part of the Ten Tenors that really had an impact on him "It was a great experience, I was a young man who got his first taste of the community. It was eye opening getting to see the world, leaving Brisbane and spending my 20th birthday in Germany. Then singing in the AFL grand final in 2004; it was crazy! It was a great education; you learn by doing, so I learnt a lot being on the road with those guys about performing and about how to hold a microphone correctly," he laughs.
Now as seasoned performer, Bradley is able to comment on cabaret's longevity while other styles have lost their pizzazz. "I think that's what cabaret's greatest asset is; it is always evolving. It takes whatever is around its community and it makes it seem fresh because it's so new and so contemporary. I think it's dangerous in that you never know what is going to happen when you've got a group of people together, because it is so off the cuff and it has to be intimate. I think it is the most unpretentious form of art in a way. It's one-on-one in a way. It's kind of you and them. You're dropped into the jungle and you have to sing your way through this audience."