'The Book Of Mormon' has endured huge success (and its fair share of healthy controversy) since first stagings in 2011.
Crafted in part by the creators of 'South Park', 'Mormon' satirises The Church Of Jesus Christ Of Latter-Day Saints, campy music numbers and all.
Thanks to huge demand – and the natural thirst for a good laugh – 'The Book Of Mormon' is making its triumphant return to Brisbane in early 2020, having only just visited for a season earlier in 2019.
Blake Bowden will step back into the role of Elder Price, and Nyk Bielak reprising his role as Elder Cunningham.
Despite having been with the production for a few years now, Blake still experiences a regeneration, a new lease of life, to hear people still excited about the thing he's done for such a long time.
"I think the brilliance of this show and the reason it's worked for so long is it's such an amazing product," he says. "We ticked over a thousand shows in Perth last month but I still have fun doing the show night after night.
"Nyk and I were only walking home after the show recently saying how much fun we'd had doing it, and I think that's a testament to the writing and how brilliant the show actually is."
Despite some of the controversy surrounding the religious themes and how it handles them in an incredibly PC world today, Bowden's perspective on the longevity all points towards the show's writers, 'South Park' creators Matt Parker and Trey Stone [along with 'Avenue Q' lyricist Robert Lopez]. "I think it touches more on universal truths – yes it's about Mormons, they are taking the mickey out of the faith, but they're kind of reducing things to their cores.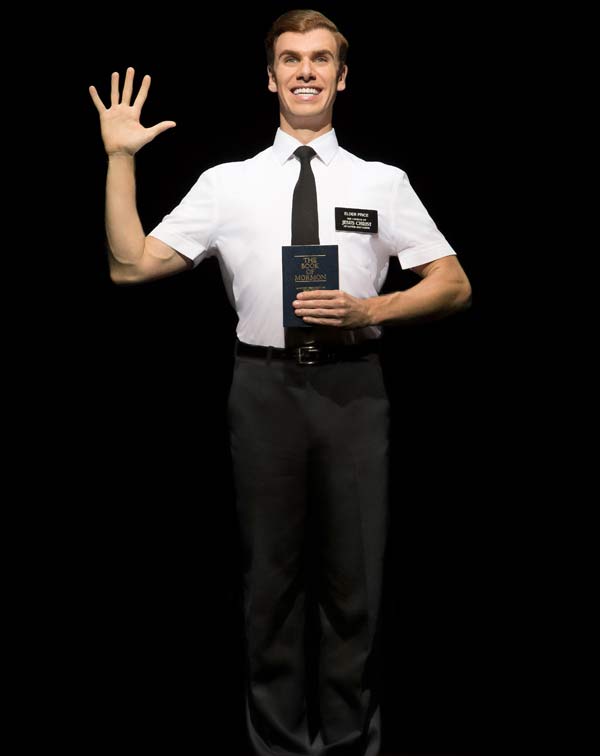 "The world, even from when the show first opened, has moved on, and we are so incredibly PC than ever before – it's a testament to the brilliance of the writing that it still is so funny and touches on all these universal truths. The show is not malicious, though."
For Canadian native Nyk Bielak, who has played his character in the Broadway debut of the production, he agrees his rendition of Elder Cunningham has evolved with each performance and in every country he's had the pleasure of performing.
"There's a passion to this character but with his faith comes doubt, and so he's kind of up and down through the show."
There's things Nyk has learnt from playing Elder Cunningham, the show's strong topics of faith having a particular impression on him. "A part of you is questioning every choice you make," Nyk says, "and you have to have the kind of guts and confidence to get up on stage in front of hundreds of people every night and sing in spite of it."
Humour, for Nyk, does of course come into his views and opinions as well as, of course, 'The Book Of Mormon', so he says he relates a lot to the character. "Matt and Trey are two of the best satirists of the age," he says. "But there's a deeper story behind all the crass stuff, very multidimensional.
"One of the great things about 'The Book Of Mormon' is how it encourages calm; to think about political or religious discontent and just be great to each other."

'The Book Of Mormon' returns to Queensland Performing Arts Centre from 3 January.