Rocking its way into Logan Entertainment Centre, 'Billy Buckett' had audiences jiving and grooving in their seats.
The home-grown musical had been in development since 2010 and finally completed its resurrection with fresh songs and a revamped storyline.
Co-presented by Logan Entertainment Centre and Footlights Theatrical Inc., 'Billy Buckett' is set in the late 1950s and centres on a wannabe rock star and his quest for fame, fortune and mass adoration. The production aims to contend with its blockbuster mate, 'Grease' – with similar rock n' roll jives, bad boy meets good girl love storyline, and mechanics comparing girls to cars.
The 2018 revival saw this British-centric musical adapt to a larger space for new audiences. Director, Roslyn Johnson, had a hard feat moving action around a stage, but did so commendably. The musical itself was filled with rapid and short scene changes that made dialogue really chop and change. Actors briefly conversed before a rock n' roll tune concluded each small segment. It was a repetitious writing style, which became predictable after a while.
For a preview performance (16 May), it was evident that there was still some ironing out to be completed – cast members forgot dance moves, there were numerous issues with sound levels and tech, and set changes sometimes dropped the pace of the show; making sharp scenes become somewhat arduous.
Despite this, the real bread winner of the production was the soundtrack that accompanied this up-and-coming musical. Featuring a long list of original compositions, the hits of 'Billy Buckett' really drive the story to completion. In fact, the beats were so catchy, it would take all your will to try and not sing them during the car ride home.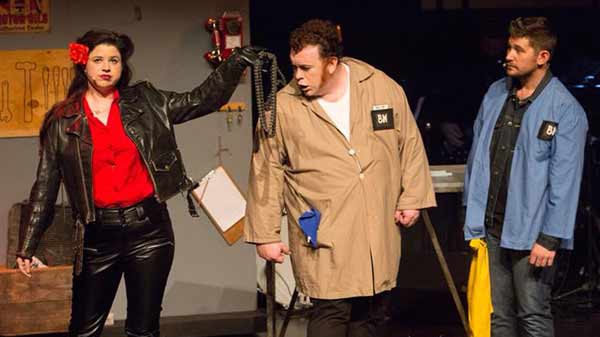 Image © Vincent Swift Photography
Creator, Jay Turner, and Score Coordinator/Co-Scriptwriter, Cath Mundy, have done an incredible job of piecing these creative hits together. The energetic dance numbers, impressively choreographed by Leanne Schmidt, were the real elements of the show that got you toe-tapping. 'A Girl Is Like A Car', 'Tender Is The Night' and 'Self-Made Man' (led by the powerful Brian Garnham) were stand-out moments.
Filled with a vibrant cast of many triple threats, outstanding performances came from Allison Nipperess as Maureen and Douglas Rumble as Big Ted. The two presented undeniable chemistry, making their comical characters crowd-pleasing and lovable. Allison had a soft disposition that complimented Douglas' contrasting loudness. In her ballad about love, Allison's voice was so clear and harmonic – it was a truly beautiful scene.
Also within the cast, Sammy Ge was endearing and eye-catching as the comic relief, Brian aka 'Pimples'; Lachlan Clark excelled as the sarcastic and clever prankster, Marty; and Lauren Lee Innis-Youren handled the emotional role of Jan with poise.
As lead character, Billy Buckett, Stephen Dorrington was vocally on point. However, at times, his characterisation lacked energy when compared to the driving forces around him – it's unclear if this was the intention within the actual script. Together, Lauren and Stephen presented a convincing love story that had some similar references to that of Gwendolen and Ernest (in 'The Importance Of Being Earnest'); having been found in a bucket instead of a handbag.
'Billy Buckett' is a funky new musical that had the audience grooving and reliving this cool decade.