Eight visual artists will clash paint brushes and fight it out to win the crowds approval in a drop-out, round robin flurry of paint, brushes, and beats.
Think battle of the bands, or a riff-off, but instead of using their voices and guitar plucking these artists will be armed with a canvas and brush. The 'Art Battle Spectacular' is a fast-paced event challenging artists to execute their creative ideas to the peak of their ability in 45-minute rounds. After each round, the most successful artists – judged by the audience – will proceed through to the next of the four-round competition. All artwork created for the event will be up for sale with a live auction for the winning piece, with all proceeds going directly to the artists.
© Holistic Digital Media
This free event will be held in conjunction with the Art After Dark West End series, with local independent food trucks, a locally-sourced bar, live DJs headlined by local favourite DJ Tr!p, and emerging alternative bands including Howl'n'Bones to encourage people to make this landmark event a part of their winter evening.
Hosted by Kat Coppock (Art Over Apathy) and supported by Splash Adelaide in conjunction with Art After Dark and the South Australian Living Artist (SALA) Festival, the pop-up event will feature artists James Dean, Chiara Beclu, Francz Varga, Brookyn Mabbot, Christina Geogiou, Steve Glass, Andrew Bischoff, and Wendy Dixon-Whiley.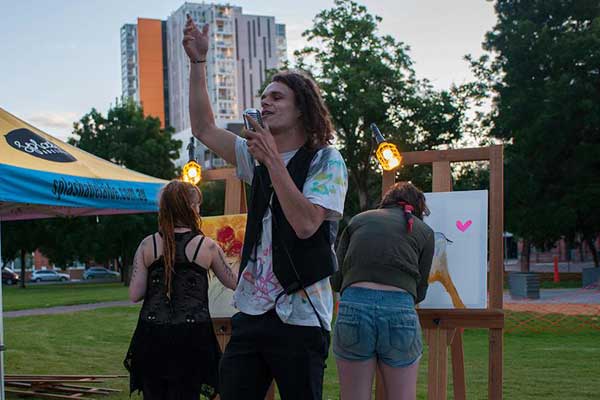 © Holistic Digital Media
Squaring up to take on each other, among other artists, Andrew Bischoff and Wendy Dixon-Whiley discuss how they cope under pressure before the big day.
How did you get into art?AB –
It must have been very early, at my last exhibition one of my art teachers from high school came to opening night after seeing my name on a poster, he mentioned my passion for art was strong way back then and that he still has some of my art work from school in his studio. I guess he was figured in the future he would sell it and retire.
WDW –
Art has been a part of my life for as long as I remember, having said that I still consider myself an early career artist and I'm just about to start a Master of Visual Art at Uni SA after just completing a Post Graduate Diploma in Visual Art in the past few weeks.
'Bitter Enemies'
–
Wendy Dixon-Whiley
What made you want to be involved in the 'Art Battle Spectacular'?AB –
To me a visual experience should stay with you, like a hit song that just won't leave your head. Interrupting the visual world into a drawing, sculpture or painting in front of others is a way of re-educating them into seeing their world differently. Like driving down the freeway and seeing a Jeffery Smart's 'Freeway' painting, or a freight train travelling through a forest.
WDW –
I try to do things that scare me a little bit and get me out of my comfort zone - 'live painting' is pretty close to live performance, and as a bit of an introvert that's somewhat scary. I also like the idea that it will leave very little room for hesitation so I think there will be some exciting and very instinctual work happening.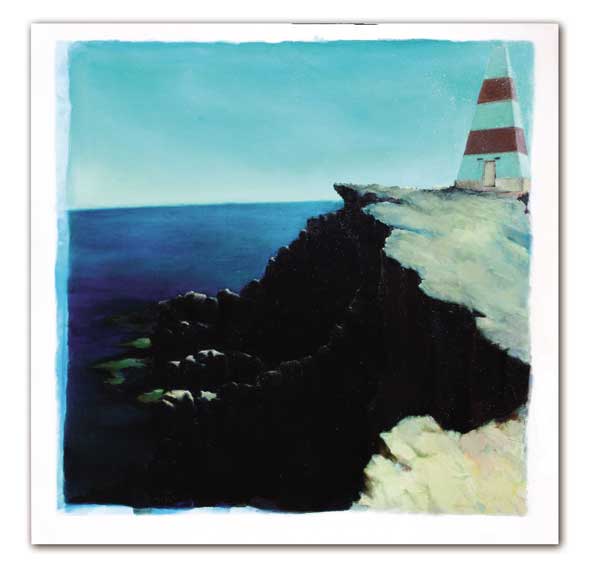 'Lighthouse' – Andrew Bischoff
What do you think the most challenging thing is about creating artwork live in front of people?AB –
Failure to experiment. A good artist should never be afraid to remove sections that haven't worked correct but with everyone watching that will be hard.
WDW –
I'm expecting that 'performance' aspect to be a little daunting at first, but the truth is that I tend to get into a bit of a trance or 'zone' when I'm working so I'll probably get over that fairly quickly.
Do you work well under pressure?AB –
At a recent work OHS meeting the question was asked 'what would you do in an emergency?', the answer from everyone was 'get Bisch to sort it out'. 
I'm affectionately known as the 'calm one', if there's a deadline to be meet I'm the one that makes it happen, pressure – bring it on!
WDW –
With regards to art – the more pressure the better! In other areas of my life – I like to have a bit of breathing space.
Why do you think you have the creative skills to win the Art Battle?AB –
Generally I get so enthralled with drawing and painting that I'll often pick up a second piece of charcoal and start drawing with both left and right hands at the same time just so I can get what's in my head onto the canvas quicker. If only I could find charcoal that tastes OK…
WDW –
I'd like to hope so! But the truth is I'm just excited about participating - Adelaide is great at putting on these clever and unique cultural events that step outside of the standard formula, SALA is a great time to be getting into it.
'Paris Roubaix Incline' – Andrew Bischoff
Who are you most looking forward to competing against?AB –
Easy, seeing everyone else's work, I love seeing other styles and approaches.
WDW –
Steve Glass is doing some awesome work and I'd like to see him in action.
How would you describe your artistic style?AB –
Very loose and free at times and at other times very focused.
WDW –
I exist somewhere in a space between contemporary art and street art. My work is characterised by a bold, graphic style with a sense of humour and playfulness and a hint of menace that hides itself behind a friendly exterior. My style draws influence from the works of Reg Mombassa, Keith Haring and Eko Nugroho and Kab 101.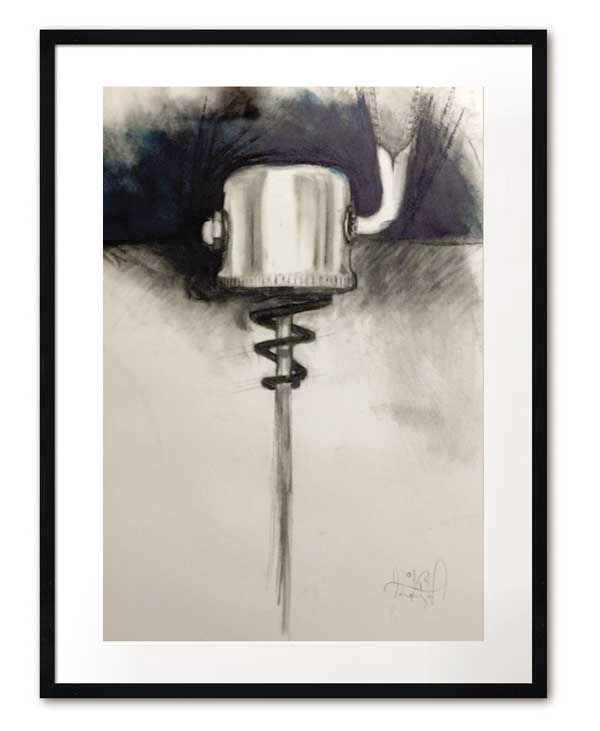 'Heroica' – Andrew Bischoff
What has been your biggest accomplishment as an artist so far?AB –
As a designer I have produced work that has published in papers around Australia but when it comes to my art I struggle to see anything as finished. It's my Achilles heel I guess, I'm hoping that the Art Battle with it's limited time frame will help me overcome some of those issues.
WDW –
The Adelaide Art Walk as part of the Adelaide Fringe this year was a highlight, I love public art and this saw me 'live-painting' a mural in a laundromat which doubles as a live music venue which was pretty surreal but amazingly fun.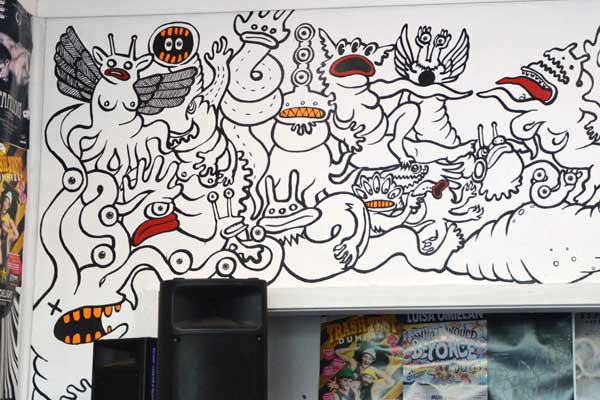 Wendy Dixon-Whiley's Adelaide Art Walk piece
The 'Art Battle Spectacular' will be held at The Queen's Theatre, 20 August.