The Beenleigh Theatre Group bring the classic musical 'Anything Goes' back to life as they near the end of their 2017 season.
First launched in 1934, a show that features songs like 'I Get A Kick Out Of You' and 'You're The Top' is always going to delight but Director Michael Skelton and Musical Director Christine Leah have pulled out all stops with numbers that feature, at times, an ensemble of up to 37 performers on stage backed up by a ten piece band.
The story is about a Wall Street trader Billy Crocker (James Rogers) stowing away on a cruise liner headed for England with the love of his life Hope Harcourt (Lauren Conway) and her fiancé Lord Evelyn Oakleigh (Jarryd Pianca) on board among others. Mistaken identities, gangsters Moonface Martin (Ian Maurice) and Emma Latour (Carly Skelton), Billy's boss Elisha Whitney (Lachlan Clark), the press, an opportunistic Captain Strong (Simon Ah-Him) all feature with hilarious results. At the centre of it all is Reno Sweeney played by Joanna Nash who has feelings for Billy but seems more concerned with everybody ending up happy and seems to know what's best for them even before they do.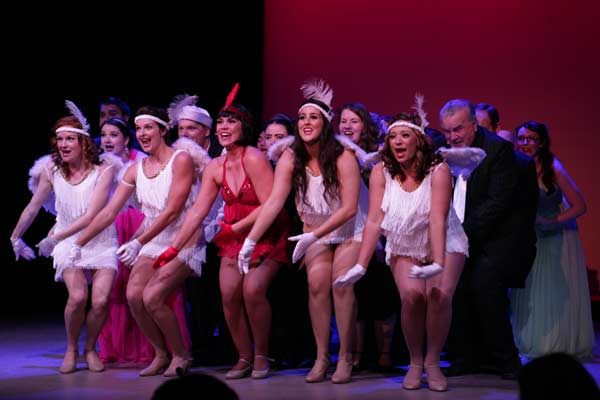 If certain singers struggled with a few notes at times due to opening night jitters there was triumph in the air when Ms. Nash was lifted up high while belting out the titular 'Anything Goes' at the end of Act One. Featuring in the numbers for 'I Get A Kick Out Of You', 'You're The Top' and 'Blow, Gabriel, Blow' she danced and sang with aplomb, conveyed the warmth and vibrancy of her character Reno and buoyed the confidence of her follow performers.
James Rogers saddled with Billy Crocker's defensive man on the make persona headed for a comeuppance, fared better when showing a gentle tenderness with Lauren Conway in their duets. A dance routine of theirs had obviously had a lot of work from the leads and choreographer Shelley Scott put into it and perfectly conveyed their unrequited feelings for each other.'
William Chen's Luke may have made the politically correct feel uneasy with its exaggerated Asian stereotype traits but it got a laugh with this audience and Chen seemed to be adding layers throughout to give his character a modern twist. For that matter Jarryd Pianca's Lord Oakleigh was no less a stereotype of posh Englishmen and he was positively a delight from start to finish. This seems true to Cole Porter's sensibilities of not taking things too serious or literal. His musicals became most popular during the Great Depression due to an earnest hopefulness and belief in the goodness of people and it is why the rendering of his classic by the Beenleigh Theatre Group was so engaging.
It should be noted in addition to the ambitious dance numbers there were some impressive costumes on display from Carly Skelton, Shannon Tilley and Katya Bryant. One highlight was Ian Maurice singing 'Be Like The Bluebird' where the veteran performer consolidated the consistent appeal of his gangster character and revealed the depths of his musical and comedic talent. It would be fair to say he stole the show but that honour may have belonged to Ernie Brewster as Cheeky the Dog who did not even have to bark once to grab the attention of the audience in his handful of scenes.
Despite all the ambitious and painstaking work that has gone into it, 'Anything Goes' is effortlessly and infectiously a fun night out at the theatre.
'Anything Goes' plays at Crete Street Theatre until 25 November.