Anything goes after hours. . .
Burlesque, cabaret, sideshow and circus stars unite for 'After Hours Cabaret Club – LOCK IN' by Highway Robbery Productions, a night of debauchery and letting loose.
'After Hours' is produced by Miss Burlesque Australia, Bettie Bombshell.
"It's fast and loose late-night debauchery all held together by a case of red wine and some hair pins we found on the floor," Bettie says.
"You never know who will stop by the club! This year we actually programmed Reuben Kaye to be in the show, last time he just kept rocking up for curtain call."
Reuben Kaye is just one of many guests in the 'After Hours' line-up. Audiences can also look forward to cabaret star and MC Tash York, swing dance sensation Kelly Ann Doll, drag phenomenons Kween Kong and Ruby Slippers, and 'Briefs' stars Dylan Rodriguez and Luke Hubbard.
"We've purchased all the PPE (Personal Protective Equipment) we could find in Adelaide! It's honestly to protect the audience from Tash as she loves to take a wander through the crowd," Bettie continues.
"We are honestly quivering with excitement at the thought of presenting the 'After Hours Cabaret Club – LOCK IN' at our favourite Fringe Festival! Adelaide audiences are absolutely wild, and they always welcome our band of misfits with a huge smile and slightly tensed arms because they remember how much Kelly Ann Doll loves 'audience interaction'."
The scandalously sophisticated show hits up Adelaide after selling out their season at the Edinburgh Fringe Festival, and the performers are no strangers to Adelaide Fringe.
"This is our fifth year at the Adelaide Fringe and with Gluttony, and after all this pandemic business we just want to get the gang back together doing what we do best," Bettie explains. "We want to suck you into our late-night debauchery, present you with some award-winning artists that have had the last year to 'rehearse their acts' so you know it's going to be f...ing great entertainment, and leave you wanting more but also maybe slightly confused about why that circus artist just hula-hooped naked whilst making popcorn."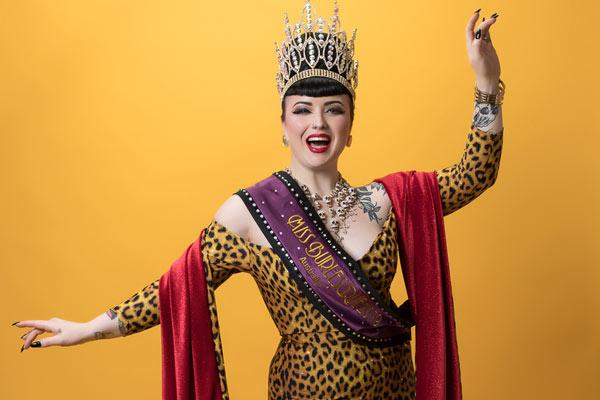 Highway Robbery, founded by Bettie in 2017, has toured shows around the world showcasing unique Australian talent, the company priding itself on its support of both emerging and established artists. Bettie says the idea behind this show was to create her own late-night experience to enjoy.
"'After Hours' is that club you always wanted to visit. It's slick live music, with a sequin-clad loud and cuttingly witty host that makes you feel like you're at the best after party that's ever been thrown, with some of the hottest burlesque, circus, sideshow and cabaret stars in the world.
"The inspiration for the show came to me about six years ago. I wanted to go to this late-night show full of the unexpected, but it didn't exist at the time. So I decided I would get my merry band of weirdos together and make the damn thing myself! We have sold out seasons at the Edinburgh Fringe Festival, the Adelaide Fringe Festival, glorious venues throughout Australia and their dingy basements."
'After Hours Cabaret Club – LOCK IN' plays Hillside Theatre at Gluttony – Rymill Park (Adelaide Fringe) 19 February-21 March.