The party bringing a city to life will once again challenge and enchant audiences, for the 60th time: Adelaide Fringe.
A programme of 1,210 events will sweep across Adelaide, with more than 7,000 artists set to take part.
Also launching today is the signature project for 2020, 'Yabarra: Dreaming In Light', an immersive Aboriginal storytelling experience at the Tandanya National Aboriginal Cultural Institute.
"At Adelaide Fringe we see First Nations participation as a vital to the arts, I'm so proud of our organisations signature project in 2020, 'Yabarra: Dreaming in Light', which speaks to this core value," Adelaide Fringe Director/CEO Heather Croall says. "Attached to this project are over $100,000 in grants for First Nations artists to present work at the 60th anniversary of Adelaide Fringe."
"We can't wait to flood the city with the joy and mayhem that comes with Adelaide Fringe. It's a time to be entertained and snuggle up under the cultural blanket we throw over Adelaide."
In 2020 there's a fabulously diverse trio of ambassadors: Amanda Palmer, Fez Fa'anana, and Marcia Hines. . . Truly embodying Adelaide Fringe for the rest of the world.
To celebrate the Fringe's diamond anniversary, audiences can take a trip down memory lane by attending the Fringe Walk, where all 32 posters from previous years will be located on North Terrace.
Adelaide Fringe will also be host to World Fringe Congress: A biennial event seeing industry professionals working for Fringes all around the world attending an industry conference to share knowledge, exchange thoughts and create discussion.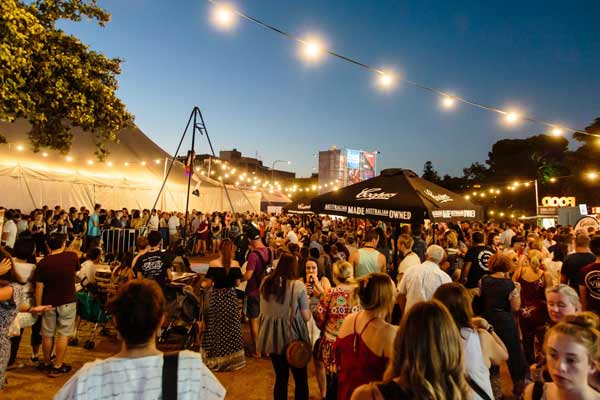 Image © Helen Page
Of the huge 361 venues hosting attractions, there'll be more than 100 newcomers joining the festivities including the heritage listed Ayers House on North Terrace.
More than 60 per cent of Adelaide Fringe shows will pop up in regional and suburban areas.
Outdoor hubs Gluttony and The Garden Of Unearthly Delights will return to the city's eastern parklands, meanwhile RCC Fringe will reappear at University Of Adelaide.
Some of the shows you can expect to see at The Garden include a line-up of stand-up veterans such as Tom Gleeson, Cal Wilson and Jimeoin, as well as a bunch of heart-racing events, the likes of 'Blanc de Blanc Encore', '1000 doors', 'Seance', 'Flight', and more.
Families can catch 'Ann-Droid – The Wonderful Adventures Of A Robot Girl' or 'Brass Monkeys'.
Music is also on full display, with Tim Rogers, The Black Sorrows, Tex Perkins and The East Pointers, to name a few.
In her first solo show, Jacinda Patty will present 'Safety Banana', meanwhile Shortcut Productions touch down fresh from the UK to bring Fringe-goers 'Zombie Zoo' which combines film, drama, humour, music, song, and dance.
The energy of Africa will be alive and well as five unleashed acrobats perform their comedy tribute to 'The Blues Brothers': 'The Black Blues Brothers'.
The Adelaide Fringe festivities will kick off with the dazzling opening night festivities, including the 'Tindo Utpurndee – Sunset Ceremony' at Rymill Park, a concert from Baker Boy at RCC, and East End road closures providing a fabulous stage for audiences from all over to celebrate Fringe's return.
Serving as a permanent reminder of the auspicious year, Adelaide Fringe have produced a limited-edition coffee table book looking at the event's history and highlights across the past six decades.
Some Adelaide Fringe 2020 Highlights
Tindo Utpurndee
Rymill Park
FREE
Adelaide Fringe's Opening Night featuring our traditional 'Tindo Upturndee', or 'Sunset Ceremony' to recognise the living culture of the First Nations, pay respect to the spirit of the land and give thanks to Elders past, present and emerging.
Yabarra: Dreaming in Light
Tandanya National Aboriginal Cultural Institute
FREE
For all 31 days and nights of the 2020 Fringe, we invite you to come experience the dreaming through cutting edge light technologies and state of the art illuminations. Free for all ages and all communities to share in. 'Yabarra' will be a unique indoor cultural experience that will engage, immerse, and educate all who share the dreaming in light.
Fringe Walk
North Terrace between Kintore and Frome Street
FREE
Take a walk down memory lane with Fringe Walk, a large-scale collection of all 32 Posters from the past 60 years of Adelaide Fringe.
Giant Sing Along
Adelaide Fringe is hosting the karaoke to end all karaoke! In daily life, we don't get a lot of opportunities to belt out our favourite ballads to our heart's content—but at Giant Sing Along, you'll be welcomed with open arms. Come along, have some fun, and let loose with the joy of song.
Street Art Explosion
Blank walls will again burst into life for the 2020 Street Art Explosion! Featuring brand new works that erupt with colour and creativity in Adelaide's CBD, alongside existing artworks throughout the city and surrounding suburbs. Visit the Fringe website or pick up a map to choose your own art adventure!
Fringe On Tour
MURRAY BRIDGE FRINGE
28 February-1 March
FREE
PORT FRINGE
14 March
Commercial Rd, Port Adelaide
FREE
FRINGE MOUNT GAMBIER
20-29 March
Cave Garden and surrounds
FREE & TICKETED
WHYALLA'S UNEARTH FESTIVAL
18-30 March
Foreshore Ada Ryans Gardens Whyalla
FREE & TICKETED
DESERT FRINGE
21-23 February
Port Augusta Cultural Centre- Yarta Purtli
FREE
FRINGE IN MARION
21-22 February
Marion Cultural Centre- Plaza
FREE
BAROSSA FRINGE LAUNCH PARTY
15 February
Tanunda Town Square/Barossa Visitor Centre
FREE
FRINGE AT ADELAIDE AIRPORT
6 & 13 March
Adelaide Airport, Departures Lounge
FREE
FRINGE AT FLINDERS
14 March
Flinders University, Bedford Park- The Plaza
FREE
Click here for the full 2020 Adelaide Fringe programme.
Adelaide Fringe runs from 14 February-15 March.