A colourful, crowned canine takes centre stage in the winning design for the 2018 Adelaide Fringe's official poster.
Adelaide Fringe created a spectacle with ute stunts, fireworks and giant inflated dogs when it unveiled the poster at the Royal Adelaide Show Main Arena.
Created by Sydney-based graphic designer Jacqueline Daniel, the poster celebrates the Year of the Dog with a balloon version of the Chinese horoscope.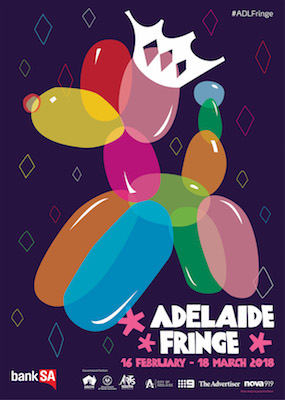 Jacqueline's design, which was picked out of more than 300 submissions, reflects the fact that next year's festival opening will coincide with Lunar New Year celebrations.
"My poster design is about crowning everyone who joins in on the festival and unleashes themselves into the night," she said. "With the jewels of the festival to light their way, they will experience the true treasures of the Adelaide Fringe."
Adelaide Fringe 2018 takes place from 16 February-18 March.