Contemporary Circus Company Gravity & Other Myths (GOM) are performing their show 'A Simple Space' at Perth's Fringe World.
Performer and GOM founding member Jascha Boyce has been there since the beginning in Adelaide, 2009 when a group of friends founded GOM. Having performed the show more than 500 times across 24 countries, audiences can expect a contemporary circus show with a difference, with often less than a metre between an audience member and a performer.
And for the Fringe World season things are a little different. It's still the same show at its core – but it's filled with a whole new cast of acrobats who have joined the company over the past two years.
These new cast members have taken the existing work and added their own skill set and style to the show.
"The audience is really close, it's probably the closest you've ever seen acrobatics before. So you can kind of feel the heat and the sweat and you can feel the struggles that we have. So it doesn't have the glamour of a normal circus, but it's actually real and honest and you can see us working hard. We have a lot of interactive moments with the audience and we go out into the crowd," Jascha says.
Throughout the show, seven acrobats will push their physical limits without reserve and will be supported by driving live percussion. It's raw, frantic and delicate.
"In all of the shows we've created, we really want to create a real connection with the audience and to do that we really feel like we have to be quite honest on stage so we don't really wear fancy costumes and we don't hide behind makeup or sequins or characters really at all," Jascha explains. "We're just ourselves on stage showing people what we do and what we love to do and our relationship to each other. It's a lot about play and it makes it more real and more accessible to a lot of people."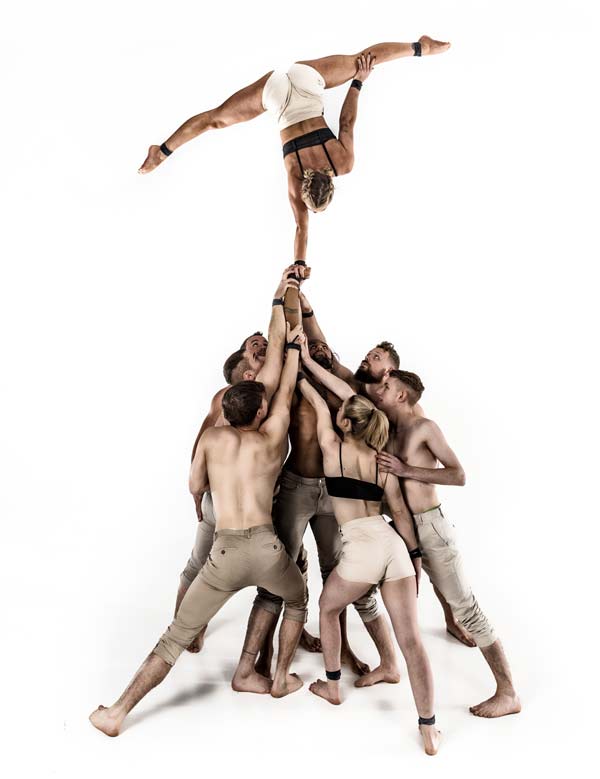 Image © Chris Herzfeld
The company might not have continued had an intended 'separation' gone ahead on their first trip overseas a few years ago.
"We went to the Edinburgh Fringe Festival and we completely intended to stop touring and to stop creating work after this. This was our last hurrah, kind of," Jascha describes. "We were all going to go our separate ways and go to university and at the Edinburgh Festival we met our agent Wolfgang Hoffmann who is from Germany and that's when it kind of all began."
"So we started touring full time almost immediately and never looked back I guess. That was the moment I knew for sure that that could be my job."
GOM are known for not just putting on circus shows to entertain, but also digging a little deeper to get to know the people they encounter.
"We often offer workshops with other professional circus companies. . . Disadvantaged youth is a big one that we really enjoyed being a part of as well. We often do questions and answers after the show so people get to know us a little bit more. We try and really engage in any way that we can."
'A Simple Space' plays The West Australian Spiegeltent at The Woodside Pleasure Garden 18 January-16 February.