Works from 26 artists are being presented in A Fairy Tale In Red Times: Works From The White Rabbit Collection, at National Gallery Of Victoria (NGV).
A number of the works have never before been seen in Australia. The art is done by artists who engage with questions of identity and explore personal and cultural memories.
Here, NGV Senior Curator Of Contemporary Art Simon Maidment pens an open letter about the exhibition.
"The White Rabbit Collection is one of the world's largest and most significant collections of contemporary Chinese art. In 2019, the NGV has collaborated with Judith Nielsen on the occasion of the 10th anniversary of the formal establishment of White Rabbit, a collection dedicated to works largely produced in the 21st century.
Having experienced the vibrant and emerging art scene of Beijing for the first time in 2001, Nielsen went on to form the collection, and committed herself to ensuring the Australian public access to it by creating a gallery in Sydney dedicated to its presentation. NGV is celebrating this visionary endeavour through its presentation of A Fairy Tale In Red Times, an exhibition of a selection of the inspiring works that comprise the White Rabbit collection. Occupying the majority of the third floor of NGV International, the exhibition brings together works across media that encapsulate a search for beauty and transcendence in contemporary China, key works by 26 established and emerging artists.
The exhibition is bracketed by Zhu Jinshi's impasto oil painting Spring Festival is Coming, which begins the show, and his magnificent The Ship of Time, comprising thousands of xuan (rice) paper sheets, bamboo and cotton thread that forms a suspended tunnel-like sculpture in the final room.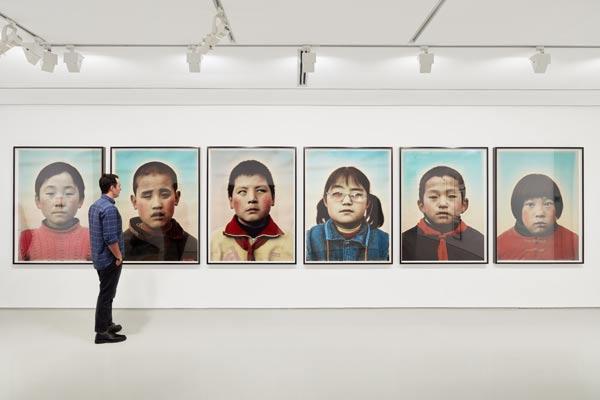 Other large scale and ambitious works include: Yang Jiechang's Tale of the 11th Day, a contemporary use of traditional gongbi painting techniques on silk; Zhang Dali's life size, cast sculptures of migrant workers with pigeons alighting on them entitled Square; Liu Wei's monumental Density, comprising six geometric sculptures made using carved books; Shi Yong's playful neon work A Bunch of Happy Fantasies; and Mao Tongqiang's installation Order, made by firing bullets into large, highly reflective sheets of stainless steel. These are accompanied by artists working in painting, photography, sculpture and video art.
A Fairy Tale In Red Times: Works From The White Rabbit Collection will complement the other exhibitions dedicated to Chinese historical and contemporary culture presented at NGV in our winter programme this year. Terracotta Warriors: Guardians of Immortality is a large-scale presentation of the Qin Emperor's terracotta warriors, and is shown in parallel with Cai Guo-Qiang: The Transient Landscape, which sees this contemporary artist create all new art works inspired by his home country's culture and its enduring philosophical traditions, including a monumental installation of 10,000 suspended porcelain birds.
Also on display at this time is a focus on Chinese contemporary photography drawn from the NGV collection, celebrating the burgeoning influence of this medium for Chinese contemporary artists from the 1990s onwards. Many these pieces, along with the works on display in this collection, have been used to illustrate a forthcoming NGV publication of newly commissioned texts. Recognising that art and design have a unique and sometimes contested role in shaping Chinese society, The Centre: On Art and Urbanism in China features 19 contributors critically examining Chinese art, design, architecture and urban development in the historical and contemporary contexts. The book will be released in June, coinciding with the suite of exhibitions the NGV is presenting."
A Fairy Tale In Red Times: Works From The White Rabbit Collection is on at NGV until 19 October.