Brisbane Street Art Festival returns in 2022. It's one of the biggest street art festivals in the country, continuing to provide opportunities for development and collaboration.
In 2022, BSAF will introduce Superordinary Northshore – an immersive arts precinct serving as the central hub for the festival. It's here where attendees will be able to attend the largest ever events and workshops programme, running alongside the mural programme.
The mural programme, featuring 50 live public murals and installations, will welcome artists from around the world (for the first time since 2019!) and across the country, revitalising some of Brisbane's most iconic locations, with public art.
Here, the team at Brisbane Street Art Festival list five wonderful things to see throughout this year's event.
One
Artist live public mural viewing for Iñigo Sesma – International Artist from Spain. International artists are back to BSAF the first time since 2019, adding their spice of culture to Brisbane's concrete jungle during the two-week festival. Iñigo Sesma will fly from Spain to join us in Brisbane after recently completing large-scale mural works in the USA, Greece, Croatia and Spain. Born in San Sebastian, Basque Country, Sesma studied Fine Arts at Barcelona University, and completed a Master degree of Painting in Bilbao. He lived in New York for two years while he did an Art Postgraduate before moving to San Sebastian where he now shares a studio together with other artists. His experiences have allowed him to develop a style of candid portraits of people he meets, surrounded by an urban streetscape reflecting the travels he embarks. He will be painting at 100 Abbotsford Road, Albion and his public viewing time is Sunday 22 May, 10am-2pm. Check out his work on Instagram at @issesma.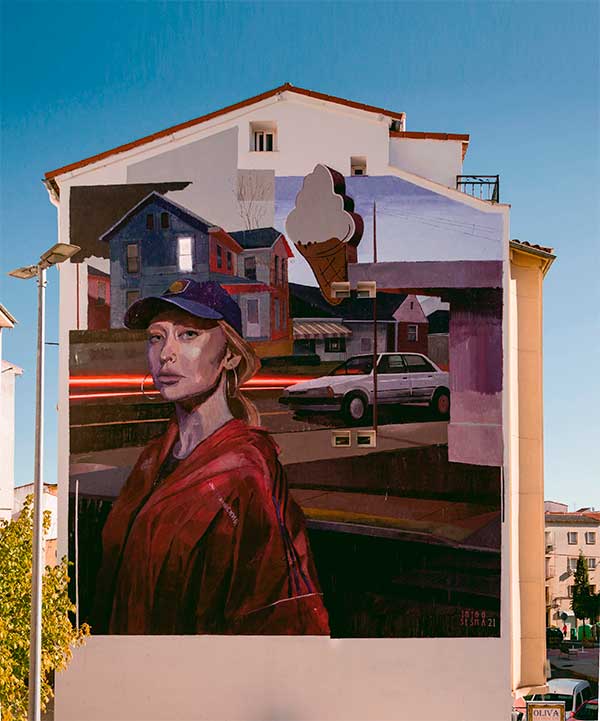 Two
Artist live public mural viewing for Tori-Jay Mordey. Tori-Jay Mordey is an Indigenous Australian illustrator and artist currently based in Brisbane. Over the years Tori-Jay has honed her skills in digital illustrations, drawings, painting, print making and film while also expanding her skills as a mural artist. A lot of her work revolves around human connection and exploring her racial identity. In her illustrative work Tori-Jay often combines stylistic cartoons with realism to help capture the complexities of our emotions; distorting and exaggerating the characters in a way that helps express and expose their vulnerabilities. Tori's mural is one of 12 activations at Superordinary Northshore, the central hub of the BSAF 2022 programme. The festival's large-scale warehouse Head Quarters is a grandiose space that will host a myriad of the programme's finest art events, exhibitions, artist talks and workshops. Watch Tori paint live at Maritime Green Park, 221 MacArthur Avenue, Northshore.
Public viewing times:
Saturday 7 May, 2-6pm
Saturday 21 May, 2-6pm
View her work on Instagram at @tori_jyeay.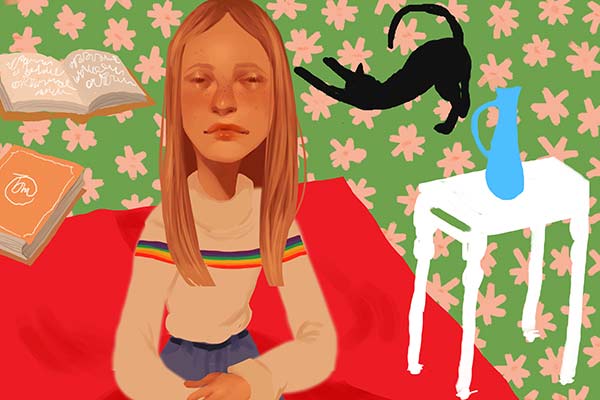 Three
Now Is Nigh (BSAF x Yonder Party). There are few times and places in life where the truly unimaginable takes place; and in these moments, these precious few instances, where reality drifts and fantasy takes hold, is where Yonder exists. Now Is Nigh provides a path down the rabbit hole for one night only in the first time Yonder reimagines the immersive experience in an industrial inner-city location. The first warehouse party presented by Yonder will mark the end of an incredible two weeks of BSAF events, murals, exhibitions and showcases. In this first instalment, we embrace the moment and incite the weird and wonderful. Now Is Nigh will transform Superordinary into a wonderland featuring live music, exhibitions, and live performances. Join us as we send off BSAF 2022 at Superordinary Northshore, and indulge in a celebration of southeast Queensland's musical and artistic talent. Allow Now Is Nigh to deliver you the unconventional, the strange, and the eclectic.
Line-Up:
Bcharre بشري
Chakra Efendi
CHURCH
Dancing Water
Desmond Cheese
DJ: Jaia & Liav
Kitch
Life on Earth
Menajerie
Old Home
Ruckus Slam
Sacred Hearts
Theatre of Thunder
UQ Taiko
Voice of Colour: LYDiE
Voice of Colour: Rura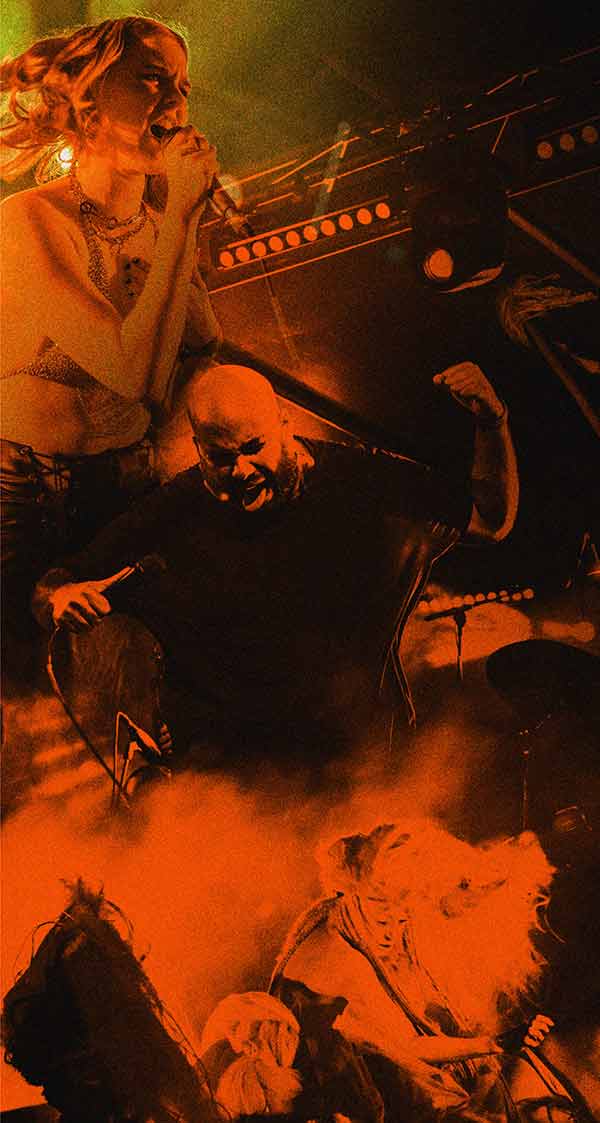 Four
Tools of the Trade by HKwalls Exhibition (from Hong Kong). The artists aren't the festivals only import this year. BSAF will host HKwalls Tools of the Trade exhibition at Superordinary Northshore, straight from the hustle and bustle of Hong Kong. This free exhibition frames the history of street art and graffiti through the lens of the tools that artists use to create their work. It highlights the ingenuity and the inventiveness of the artists by focusing on the techniques and tools that allowed them to produce their best works before commercial companies created products just for artists. From early stencils and spray cans to the introduction and integration of complex and modern technology, this exhibition offers up a rare and incredibly diverse glimpse into the practical demands of street art. Tools of the Trade documents the tools, traditions, and techniques that have facilitated the works of street artists for the last 70 years.
Times:
Sunday 8 May-Sunday 22 May
Opening Night: Saturday 7 May, 5pm-LATE
Monday-Friday: 4-8pm
Saturday-Sunday: 1-8pm
Five
Aerosol Masterclass. We are proud to present a workshop programme offering at Superordinary Northshore that has more than doubled since the previous year. We welcome the public of all ages and backgrounds to get involved and express themselves creatively across over 20 workshops. From Yarn Bombing to an Intro to Tufting, there's something for everyone! Aerosol Masterclass in particular allows those to join aerosol masters Gus Eagleton, Shmick & Smalls as their workshops guide you through a collaborative group wall work, disclosing their best-kept secrets in marking, spraying and conceptual artwork development. Skills won't be the only win gained from this workshop, get an insight on the range of cans on the market, the variety of caps, working with various surfaces, and much more. Limited spaces available.
Time:
Sunday 8 May, Saturday 14 May, Sunday 15 May
12-2pm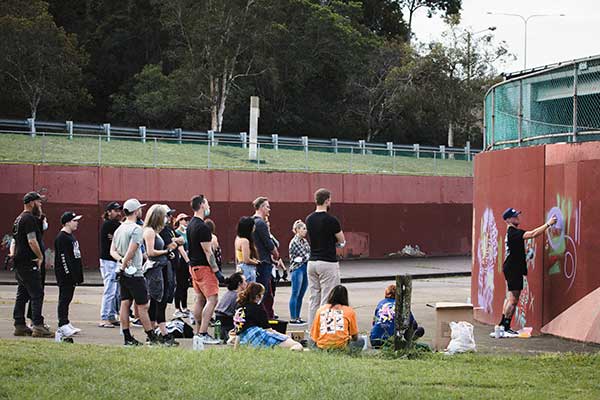 Brisbane Street Art Festival 2022 is on from 7-22 May.