In a crazy collision of circus, comedy, skill and whimsy, Berlin's Remi Martin ('LIMBO', 'Blanc de Blanc Encore') presents 'L.I.A.R.' ('Life Is A Rehearsal') with Strut & Fret – playing as part of Perth and Adelaide Fringe.
Remi explores life and all of its ups and downs. . . All of its silliness and not-so-silliness.
Childhood, adolescence and then of course the daily grind of adulthood. . . 'L.I.A.R.' is a showcase of extraordinary props, special effects and scenes set to the tune of a live soundtrack, and performed by a company of three.
Before you experience this odyssey of self-discovery, Remi lists five things you can't rehearse for in life.
One
Being born. You just get thrown into this world, created by two people you don't know, you never met and you never chose. There's just no time to rehearse for the day of birth, too busy transforming from a little worm into a human being. I mean really, how can you rehearse for that?
Two
Growing up. You can't rehearse for the way your body changes. First you don't care about anything, you just wanna play, suddenly you get pimples all over your face and you actually care about what people think about you. On top, you have to learn a lot of useless stuff in a too-short time taught by people who are not really fun. While this is all happening, all you want to do is have fun and be funny.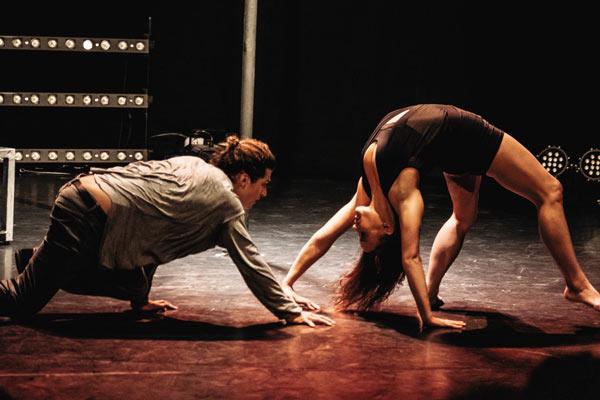 Image © Hong Nguyen
Three
Falling in love. You have a lot of time actually to make love, to give love, to receive love, play with love, but then when it happens there is no time at all to rehearse, you just fall. . . You think you've been rehearsing for years, you should know what to do and then boom, you get thrown on stage, there you are in the spotlight, you should say something but no words come out.
Four
Making big decisions. Once you've found it, you realise love is great, but it doesn't feed the kids. You make decisions to please others, it's like telling a joke on stage you know the audience will love, but you hate this joke – it's just not funny. There is no rehearsal for making your dreams come true in the real world, you let go, you improvise, go with the flow and trust that the punchline will be good!
Five
Reaching for the stars. There was no rehearsal for Neil Armstrong's first step on the moon. All he needed was courage, trust, training, experience, dreams and a big serving of luck to take him to another world.
'L.I.A.R.' plays Teatro at The Woodside Pleasure Garden from 23 January-10 February (Perth Fringe World) and The Factory At The Garden Of Unearthly Delights 14 February-1 March (Adelaide Fringe).