There's a bomb on a bus. If the bus slows down, it explodes. What do you do?


A loving homage to the 1994 action thriller starring Keanu Reeves, 'Speed: The Movie, The Play' by Act/React is a high-octane comedy exploding into Sydney for the first time this September.
Here are some key reasons you should check it out.
One
It's on a bus! Not just any bus, but a legitimate vintage bus – the kind you might have ridden in the '80s and '90s before on board air-conditioning was a thing. The show was created by Dan Beeston, Natalie Bochenski and Gregory Rowbotham, Brisbane-based performers who were kicking around ideas of the kind of shows they'd like to see. "We love pop culture, and all adore 'Speed', and so the idea of recreating it with the audience being the hostages on the bus just made us laugh and laugh," Bochenski says. "We thought it would remain only an idea – but then we discovered there are bus preservation societies all around Australia that give these beautiful vehicles a second life. Once we had a bus, we knew we had to write the show."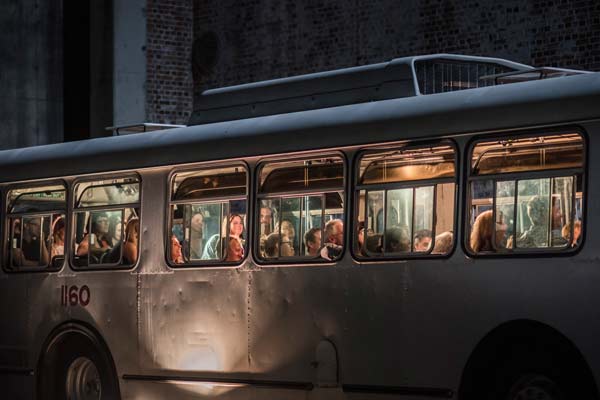 Two
Keanu Reeves! 2019 has been the year of everyone falling back in love with Keanu Reeves. From 'John Wick 3' to his cameo in 'Always Be My Maybe' to 'Toy Story 4' and now the new 'Bill & Ted' movie, the 'Keanaissance' is a cultural phenomenon. "Our main character is not called Jack Traven, as it is in 'Speed', but Keanu," Rowbotham says. "We just love the guy, and our Keanu is very much a tribute to the man himself. He plays it straight, while everything else around him is chaotic. Audiences respond so endearingly to him."
Three
A special effects bonanza! How do you recreate explosions, gunshots, traffic chaos and dangerous bridge jumps when most of your budget has gone on securing a bus? "There's a certain inventiveness that comes with having very little money for special effects," Beeston says. "Half the fun of the show is seeing how we recreate these large-scale stunts – we love delighting the audience with our DIY visual and foley effects."
Four
You are part of the show! Bochenski says their production company, Act/React, is all about creating shows that make the audience feel like heroes. "Audience members are the bus passengers who are being held hostage by the villain Dennis," she says. "We want them to be invested in Keanu beating the bad guy, so we enlist them to help by carrying out tasks or saying certain lines. We created the show to be like a roller-coaster – we want people to leave wanting to jump back on and go again."
Five
It's at The Rocks! Sydney Fringe has established a special performance precinct at The Rocks this year. The hub will feature markets and other pop-up entertainment options for Fringe-goers. "We're thrilled to be bringing our awesome performers to Sydney for the first time, and in such an iconic location," Bochenski says. "We can only fit 40 people on the bus, so we are trying to run as many shows as we can in our ten-day season so everyone has the chance to join Keanu onboard. But we definitely recommend booking early to make sure you catch the bus!"
'Speed: The Movie, The Play' is on at Atherden Street 20-29 September.