'People Of Colours' is a brand-new, freshly and fully cooked theatre work produced by storyteller and producer Naavikaran and Grace Edward.
The work centres around four extraordinarily messed-up people living in an extraordinarily run-down share house who have a house inspection coming up and decide instead to throw a house party on the night before.
Happens to the best of us? You bet.
The work stars Sunday Luate-Wani, Luna Celeste, Grace Edward and Naavikaran with Katie Rash, Kalpana Prasad, Malakeh and Genkstasy as the radical crew.
Here are five reasons why you don't want to miss this slightly raw, mostly wild but totally entertaining theatre production this May at Brisbane Powerhouse as a part of the MELT Festival Of Queer Arts And Culture.
'People Of Colours' has been developed and shared on traditional Jagera and Turrbal country and the creators of the work pay their respects of Elders past, present and emerging.
One
A shockingly queer cast. 'People Of Colours' shares a powerfully queer cast from various Bla(c)k, Indigenous and people of colour (BIPOC) backgrounds coming together not only as a team but also as a creative powerhouse and community. While the cast and the crew are queer, the team is also intersectional in various ways. This is not just great for representation in the arts, but it also normalises several aspects of storytelling with and from BIPOC that is still uncommon in Brisbane – and Australia's – theatre scene.
Two
A unique process of storytelling. Along with the crew, the team have together developed this work from scratch with a fun mix of humanity and off-the-chart Aussie humour. The characters in 'People Of Colours' are ones created entirely by the cast member playing them. The development of the work is unique as it builds from the collective conversations and lived experience from both the cast and crew to offer a thoroughly collaborated work.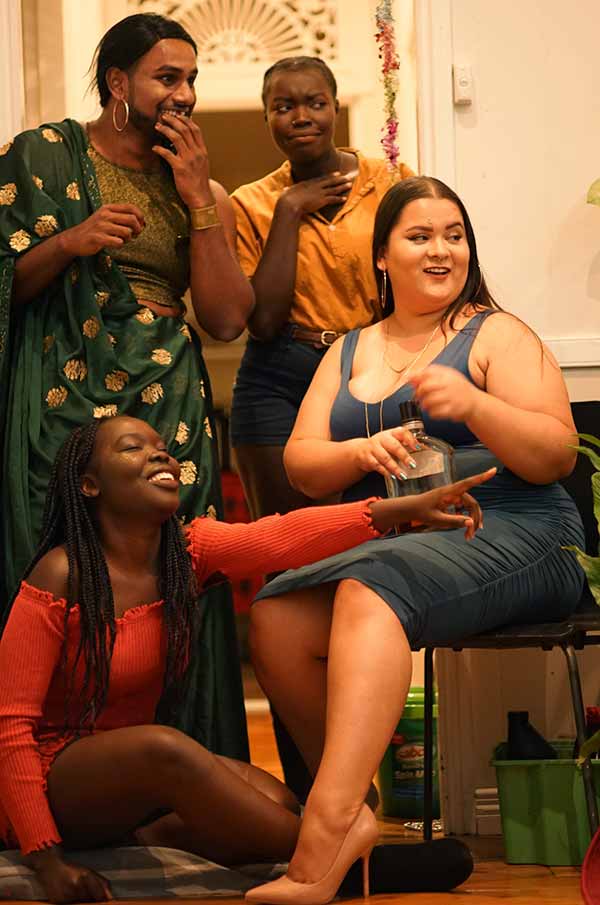 Three
Start to an important franchise. Debut producer Naavikaran is incredibly curious about the untold stories, the urban legends and the daily dramas that occur in share houses across Australia. These stories and the everyday occurrences are a powerful reflection of the society and communities we are a part of and often shapes us into the bigger collective and people that we are. The narratives in 'People Of Colours' are exceedingly real, and the makers are thoroughly interested in exploring what the process of incorporating other narratives would look like in future approaches to the work.
Four
The humour – untouched! The work has a powerful focus on Bla(c)k and Brown joy, and how humour is created and shared across communities. The creators are deeply interested and invested in building opportunities for laughter and highlighting thriving through joy as a powerful tool of survival.
Five
Beyond the trauma. Underneath the humour and the reality that the show addresses, 'People Of Colours' poses the characters as everyday people who are yet complex and nuanced. The work doesn't rely on selling trauma for entertainment as it is normally expected from people of colour. The work is developed and will be shared without relying on suffering and disadvantage, exploring a different dimension to BIPOC theatre and storytelling.
'People Of Colours' plays Brisbane Powerhouse 27-30 May as part of MELT Festival (Brisbane).