Optimists have their work cut out these days.
If they're not on the receiving end of rolled eyes and patronising sighs, they have to keep their chins up against a tide of seemingly unrelenting bad news. A challenge indeed, but luckily these resilient folk have a talent for finding silver linings on clouds, and even scattering them to reveal sunny skies.
One such optimist is urban artist Sarah Sculley, who is a shining example of what you can do with the right attitude, a vibrant palette, and a lust for life and your work. Sarah is preparing for her first solo show in Australia, cheerfully titled, 'The Brighter Side'. She is currently putting the finishing touches on over 35 pieces – all original, previously unseen artworks by Sarah – and they all come with a few extra bonuses.
"When you buy a Sculley artwork, you're not just receiving a colourful canvas-sized piece of my soul. You're receiving much more. Even if you don't want it."
Bonus cat fur
Cat owners will understand. Fur everywhere. I try to keep the studio door closed, but these cats are stealth and evil. They like to rub up on everything in the studio. Including paintings that I'm working on. While I'm working on them. With wet paint on them. They do make good lap warmers in the winter. Thanks cats.
Bonus magic invisible collaborative layer
Much like the cats, my toddler is stealth. The studio is off-limits; therefore he must get in that stinking hot, spray can filled death trap. When he does, he grabs the brushes on the bottom shelf and pretends to paint on my canvases with his imaginary paint. This fills me with so much anxiety (don't touch my stuff) and love (oh, he wants to be like me) that all I can do is take photos of the budding artist and the wonderful collaborative piece we are working on.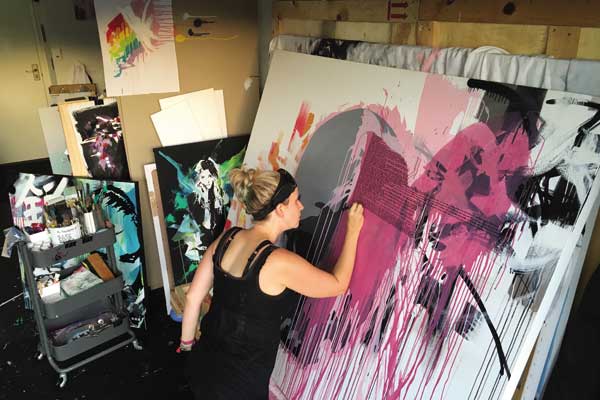 Bonus DNA
My awesome art studio is in the double garage attached to my house. It's my favorite place in the whole world between the hours of 10pm and 4am. Outside those hours the studio moonlights as a sauna. I like to pop in, pop a layer on an artwork, drip some sweat everywhere, and pop into the shower before I shrivel into a sultana. Sweat contains DNA. Essentially, you could try cloning me with one of your Sculley artworks.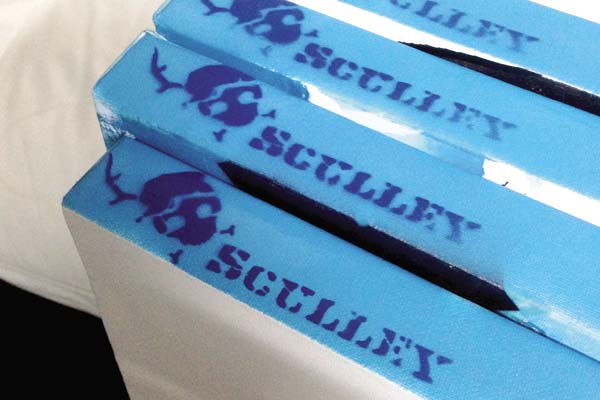 Bonus signatures
I think my signature ruins my beautiful artwork. I spend all that time on my artwork only to scrawl my John Hancock on it and BAM it's unbalanced and ugly. So I thought I'd be all Banksy and stencil my name on the side of my work. Cool. But how many people look at the sides of artworks? How will people strolling by know I painted it? So I stenciled my trademark three-crosses on the front. I have now decided that all these signatures are important so all are on all of my artworks. Not one, but three signatures! Lucky you.
Bonus investment
Lastly, some people buy art as an investment. Normally these art investments go up exponentially when the artist passes away. Now, I'm not saying I'm planning on going anywhere any time soon, but I do only have one kidney. That's one less kidney than the next artist. Just sayin'.
Sarah Sculley exhibits her work at Jugglers Art Space from 19 February.