Nobel Laureate Harold Pinter said of memory that "the past is what you remember, imagine you remember, convince yourself you remember, or pretend you remember."
Star of Mystique Productions and Tony Knight Acting's 'Old Times' by Pinter, Rachael Wegener, delves into her acting past and plucks out her favourite memories:
ONE
Being in acting school in Canada and as a class exercise to break internal programing patterns I was asked to give a guy in the class a lap dance while I was reciting a monologue about my character's turbulent relationship with her mother - WTF ?!? LOL!
TWO
Working with Hollywood actor Matthew Lillard ('Scream', 'Scooby Doo') on the Canadian film 'Come Home Soon' and getting to go to a warehouse lot from Phoenix One International – who deal with Hollywood Studio Films and TV shows filmed in Vancouver – for a costume fitting for a Military Officer role I was playing in the film. I walked into this huge lot the size of a football field and was amazed at seeing all sorts of military items under one roof: tanks, helicopters, launcher weapons, grenades – you name it big or small . I was like 'wow, the things you get to see and do is quite a privilege as an actor'.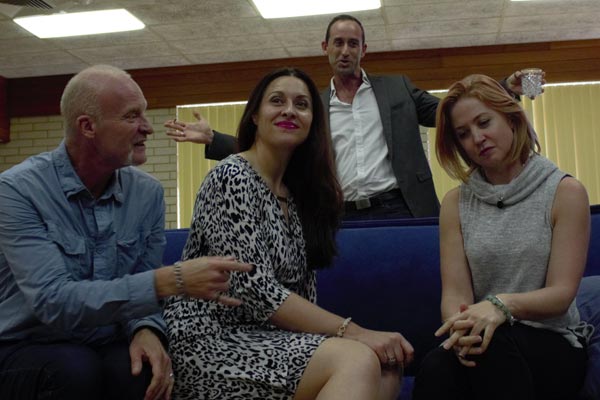 THREE
Playing a role in an eight-hour play that was part-scripted, part-improvised for an alternative wedding on a little private, beautiful forest-filled island off the coast of British Columbia. Arriving in speed boats with the guests – pretending to be guests – and as the day progressed the show went on. This happened in and around the ceremony until the last hour the climax of the play, a murder has occurred on the island and someone is missing, we are all in lockdown. All guests not knowing what was real or fake until the final reveal. It was a mind-blowing role and day!
FOUR
While shooting 'Deadline Gallipoli' one of my scenes was with Joel Jackson ('Not the Boy Next Door: Peter Allen Story') Aaron Glenane, Benedict Hardie ('Molly') and Luke Ford ('Charlie's Country'). I was to charge out of a burning building and pick a fight with these 'rude Aussie soldiers' yelling and screaming in learned Arabic. The scene got so heated between us all that one time spit flew... We were all trying to hold a straight face and do the scene watching this spit globule fly through the air (in what felt like slow motion) and it landed on Aaron's head! OMG - eww! But we killed ourselves laughing doubling over after we heard cut!
FIVE
The memory that Tony Knight and I had secured the rights to Harold Pinter's 'Old Times' and contracted it to play at the Adelaide Festival Centre. This was a big privilege and gratitude moment to feel delighted that I'm in my hometown of Adelaide about to put on an amazing written play that's been done by the likes of Clive Owen, Alan Rickman, Kristin Scott Thomas in one of the best venues in the world!
'Old Times' plays Adelaide Festival Centre 6-9 April.