Adelaide and its surrounding regions are famed for its fertile, wine-grape growing basins.
But Topsy Games aim to add some silicon to South Australia's valleys, announcing a
crowdfunding campaign
to fund their new mobile strategy game, 'Kings VS Queens'.
The advent of smartphones did not simply unleash the social media and selfie phenomena; it also delivered gaming machines to the palms of a new generation of gamers. Think 'Candy Crush', 'Fruit Ninja', 'Angry Birds', 'Bad Piggies', 'Clash Of Clans'.
Marco Rapino, leader of Topsy Games' global development team, was the man behind those pig-hating birdies. The success of that game came partly from the addictive gameplay and partly from its rich and comical characters; they went beyond mere pixels.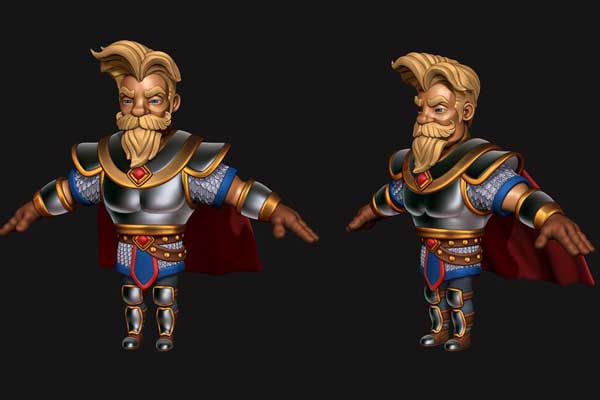 The King's Knight
Similar care has gone into crafting the protagonists in 'Kings VS Queens' says Lead Artist Kat Wielgus. "The King's Knight is a complete narcissist. He's fond of himself and his muscles, in the mirror. And the Queen's Viking is a tough warrior with a big hammer but a bigger heart.
"Her best friend is her mount, a bear named Bojo. The King's Dwarf, that army's thief unit, is... well, when you are born a dwarf, there are only a couple of occupations you can choose in life, and they all focus on gold and treasure."
The King's Dwarf
The game utilises all of a smartphones' functions to more deeply immerse the player in the experience, as founder of Topsy Games Amin Naserpour explains. The core objective of Topsy Games to maximise the user's experience. "Personally, I love this genre," Amin says, "but I'm really proud of all the little touches that make it a more exciting and unexpected experience.
"Cast a spell, watch your screen, and hold it tight! It will vibrate when your fire magic spell erupts from the ground, damaging your enemy's kingdom."
Amin first fell in love with gaming as he waited patiently for his magnetic tape Commodore 64 games to load. As an 'Age Of Empires' fanatic, he and his team have poured over the details of more than 50 mobile-strategy games with the aim of delivering a title that is built based upon the demands of gamers.
Gamers have the potential to win prizes with plans for BitCoin to be integrated within the title in future updates.
While the game is almost ready to roll, Topsy Games seeks an additional $USD500,000 crowd funding through Australian Investment Network and IndieGoGo, to be spent on the final stages of marketing and development.
If all goes according to plan, a hand-held Game Of Thrones will be unleashed some time in 2017.